Famous People Like the Hoyas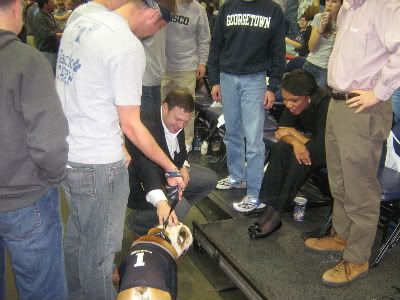 At least a dozen shirtless members of the Georgetown crew team made their way to the front of the student section yesterday, sporting spandex shorts, painted chests, mohawks and the like. They said it "seemed like a good idea."
"Pretty awesome," said a Georgetown fan sitting in front of these nearly naked rowers. "I row too, so I'm all for the spandex."
During some Georgetown Saturdays--say, at a December game against Jacksonville--a half-naked spandexed-and-mohawked rower might have qualified as the most notable fan of the game. But not, as it turns out, against Louisville and Rick Pitino, not with a national television crew on hand and the Big East regular season championship on the line. And so yesterday the spandexed-and-mohawked rower's competition thus included:
* Secretary of State Condoleezza Rice, sitting courtside with State Department Policy Planning Director David Gordon and Assistant Secretary for Near Eastern Affairs David Welch, the latter a season ticket holder since '81.
"You should talk to him, he's the Georgetown fan," Rice said, delegating to Welch.
"We have a bet, the secretary and I," said Welch, who was wearing a Georgetown sweatshirt. "Georgetown will make it to the Final Four; Stanford will not."
"I'm a huge college basketball fan, I was at the Final Four in San Antonio in 1998," Rice said. "Unfortunately, Stanford's probably going again and I'm not going to get there."
Rice was asked who runs the official Cabinet-level March Madness pool.

"My Cabinet colleagues, I don't even know if they know what March Madness is," she said.
"We're always afraid to get in a pool on the Final Four, because the Secretary's always right on that one," Gordon said.
"Last year my bracket did not break down until the Final Four," Rice confirmed.
And yeah, the State Department is technically located in Foggy Bottom, but even GW fans have stopped going to the Smith Center.
* Capitals majority owner Ted Leonsis and Nationals principal owner Mark Lerner, sitting together in the front row as the multi-tasking Leonsis watched his hockey team play the Boston Bruins on his laptop. He is a well-known Hoyas regular, but Lerner?
"Why Georgetown?" Lerner said. "My son goes to Georgetown law, and I root for all the D.C. teams."
* D.C. Mayor Adrian Fenty, who briefly visited with Rice and Leonsis during halftime as his sons played with Jack the Bulldog.
"They went to say hello to a real VIP," Fenty noted.
With American hosting a Patriot League semifinal this afternoon and George Washington (at that moment) still fighting for a chance to defend its Atlantic 10 title, Fenty was asked which local team he supported.
"Well, we support all D.C. schools, that's the mayor's answer," he said. "All of the above."
And who runs the mayoral office's March Madness pool?
"That would be illegal," he said, as clean government reformers rejoiced.
* Redskins quarterback Jason Campbell, with his girlfriend, Miss D.C. Mercedes Lindsay, sitting a few seats away from Redskins cornerback Carlos Rogers. Auburn, it should be noted, is among the dregs of the SEC, so the former Tigers can be excused this bit of cross-conference shopping around.
"Since I'm in D.C., I'm going for Georgetown," Campbell said. "I'm a big fan of the Hoyas. I got a chance to meet Patrick Ewing."
* Oh yeah, Patrick Ewing. The older one. Sitting two chairs away from Rogers, and competing with Rice for most awe-struck gazes.
Leonsis was asked what brought out this glut of A-listers, or at least A-listers by D.C. standards.
"Georgetown's back," he said.
* And finally, Jeff Green's mother, Felicia Akingube, wearing a Jeff Green Sonics jersey and waving to the crowd during the inevitable "Jeff Green's Mom" chant. So, Jeff Green's mom, why are the Secretary of State, two Redskins, the mayor, the two pro sports owners and an NBA mother all at the same Hoyas game?
"Because we're hot," she said. "Georgetown is absolutely hot. It's a team that sticks together. They play together. They have, what do you call it? What's the word I want to use?"
Um, that certain certain je ne sais quoi?
"Exactly," she agreed.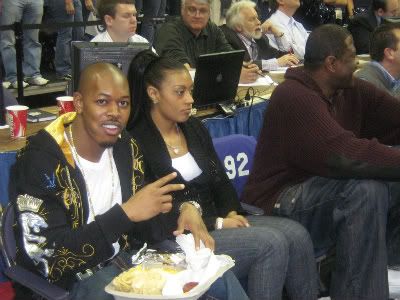 By Dan Steinberg | March 8, 2008; 5:54 PM ET
Categories: College Basketball
Save & Share:
Previous: Pitino Says Georgetown's Been Lucky
Next: William & Mary Storms the Court
Posted by: KC in DC | March 8, 2008 5:57 PM | Report abuse
Posted by: Magie | March 8, 2008 8:55 PM | Report abuse
Posted by: Jamie Mottram | March 8, 2008 11:15 PM | Report abuse
Posted by: section107 | March 9, 2008 2:24 AM | Report abuse
Posted by: G Blatche | March 9, 2008 9:26 AM | Report abuse
Posted by: 1234 | March 9, 2008 2:20 PM | Report abuse
Posted by: JP | March 9, 2008 10:22 PM | Report abuse
Posted by: Hoo Fan | March 10, 2008 8:39 AM | Report abuse
Posted by: EtoW | March 10, 2008 8:49 AM | Report abuse
Posted by: Horton | March 10, 2008 10:26 AM | Report abuse
The comments to this entry are closed.