Fans and Signs and Jarvis Hayes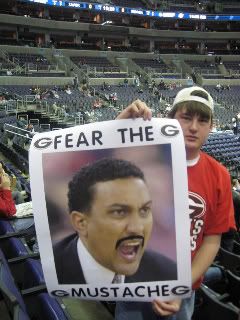 Typical D.C. crowd. No one's here. Anyone with tickets to the second game who shows up late for the first game deserves to be excommunicated from sports fandom. But the official Purdue and Baylor sections are almost entirely empty.
The Georgia cheerleaders have arrived. The consensus, loudly expressed by some on press row, is that the Georgia cheerleaders are NBA-caliber and the rest of this sub-regional is likely to be of NBDL standard by comparison. Yeah, I know; useless without pictures. Sorry. The further consensus is that I should spend the rest of the weekend blogging about the Georgia cheerleaders and nothing else. Minds in the gutter.
Who IS here? Jarvis Hayes, in a gray sweatsuit, for one. Although from my vantage point, there are at least as many Xavier people as Georgia people, which is a mild upset. And the Xavier people appear to be significantly louder, which is also an upset, right?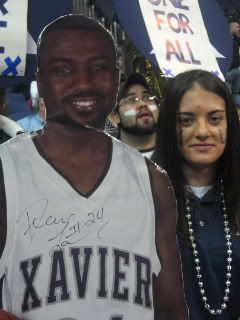 By Dan Steinberg | March 20, 2008; 12:19 PM ET
Categories: College Basketball
Save & Share:
Previous: The Scene From Verizon
Next: The Scene in Denver
The comments to this entry are closed.