Game Becomes Interesting, Hoyas Will Win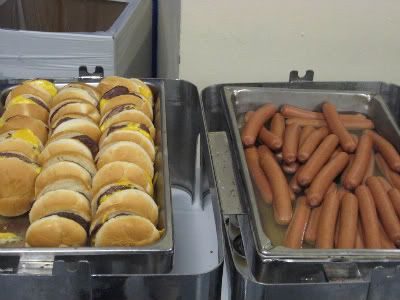 Jeez, step away for three minutes to buy a Madison Square Garden knish and all of the sudden it's a back and forth game, and Vernon Macklin and Roy Hibbert are both picking up their fourth fouls, and the Georgetown students are yelling about the foul discrepency (which is fairly ridiculous), and Patrick Ewing Jr. is coming down bad on an ankle, and the U-Conn. and West Virginia fans are getting behind Villanova, and some drunks are yelling "Bud-Weiser, Bud-Weiser" at the concessionaires. It's never too early to be drunk in March, I suppose.
The game ops people just showed promotional videos for the two schools. When Villanova's came up, the Hoya kids chanted "Safety School." When Georgetown's came up, there were shots of the White House and the Capitol Building and the Georgetown kids cheered.
Anyhow, while I typed these three paragraphs and uploaded the above photo, Georgetown went on something like an 18-2 run to make things uninteresting again, but I had typed the headline of this entry before that happened. Because if Georgetown is gonna lose to Villanova, it's not going to be in a back-and-forth close game that comes down to the last shot. Georgetown doesn't play that.
So even though Macklin and Hibbert have both now fouled out--Hibbert with about as quiet a game as a 7-foot-2 star can have in the Big East tourney--the Hoyas lead by nine and are in no danger whatsoever.
By Dan Steinberg | March 13, 2008; 1:53 PM ET
Categories: College Basketball
Save & Share:
Previous: Hoyas at the Half
Next: Georgetown Wins
Posted by: littles | March 13, 2008 2:45 PM | Report abuse
Posted by: Evan Chvotkin | March 13, 2008 4:30 PM | Report abuse
The comments to this entry are closed.