Gilbert Practices, Talks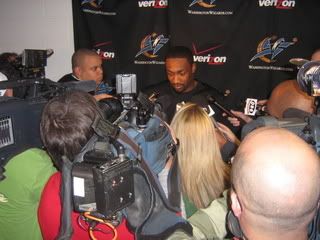 The doors opened to the first Gilbert Arenas practice of 2008, and the media stormed in. At least 31 folks perched on the rail, watching the team run through five-on-five drills in which the losing side had to do full-court sprints. When Gilbert's team ran, Mr. First Day Back beat Darius Songaila to the finish line, which was kind of tragic, although sources indicated that Darius used to totally crush Gilbert when the latter was still on crutches.
Eventually, the players split off to shoot free throws, with Coach Eddie Jordan starring in the role of iron-willed middle school coach.
"Too many misses," he said, stopping the shooting. "I see too many people not concentrating. You miss a free throw, take a jog."
DeShawn Stevenson had been excused from practice with a nagging injury; when he missed a free throw, his punishment was five push-ups. I figured any minute, Jordan would put away the basketballs and bring out the rings and the pommel horse, and everyone would be forced to do tumbling. Mr. Meniscus ran his punishment, and no ligaments or cartilage seemed to pop out of his knee cap.
Then it was on to the day's bigger drama: would the Meniscused One deign to speak to the media?

The odds seemed slimmer than a draft-day Slovakian; he had talked yesterday, and he rarely talks two days in a row, and the crush of reporters meant there would be plenty of cameras, and the man claims to hate talking into a camera. One bystander put the chances at 0.0003 percent.
Jordan emerged first; "how was practice?" he was asked. "It was great," he replied.
"Gil brings energy," Jordan later pointed out, "as you can tell by you guys being here."
At the same time, a different drama was playing out one hallway over, as the players helped decorate a Wiz-themed plane that will be part of the Crystal City BID's "Celebration of Flight." The designer, local artist (and elementary school teacher) Amy Marshall, offered guidance as the players accessorized the basketball silhouettes.
"Have you ever painted before?" she asked Stevenson, who aggressively grabbed a brush. "You're making me nervous."
DeShawn painted a large "2 Family" near the back of the plane. Antawn Jamison outfitted his silhouette with Adidas-striped sneaks, and painted a star on the front of the plane. (Well, Amy painted it, Jamison just filled it in.) Nick Young gave his silhouette an afro and smiley face. Songaila drew a picture of himself with spiked hair and encouraged Marshall to add shark's teeth to the plane; "that would take a while to paint," she said. Then Songaila added a stylized "9" near the fuselage; "who said Lithuanians are not artistic people?" he proclaimed.
And while the crafts project continued, Arenas emerged from the locker room to speak with the press, still wearing his practice jersey and looking about as happy as Hillary Clinton heading to the back of the plane. He answered 21 questions, shed no light on his return date, predicted that Caron Butler would return before he does, said the word "confidence" three times, and issued only two mild laugh lines. We attributed it to rust.
On whether Orlando and Washington both want to face each other in the playoffs: "Well, it's easy to say you would like to play someone," he said. "You know, I would like to play Michael Jordan one on one but that don't mean anything."
On how his one-on-one games with Nick Young have gone: "C'mon. It IS Nick, you know. I know [I'm injured], but it's still Nick. I just bully him. If I miss a shot, I'm gonna call a foul. I start making up rules--two fouls is one point. At the end of the day, I'm gonna win somehow."
When he finished, many of the media persons thanked Gilbert for his time, as he and Wiz PR guy Zack Bolno headed back toward the locker room. I asked Arenas why he had decided to address the media.
"I don't know," he said. "I don't know. I didn't want to blow off the media, and then you guys are [like], 'Oh, you put it on the blog, and you don't talk to us any more.' " He paused. "And actually," he said, "Zack made me."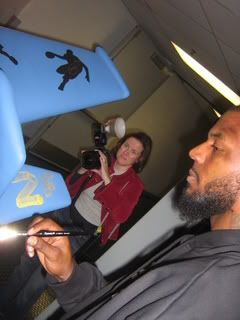 By Dan Steinberg | March 4, 2008; 3:01 PM ET
Categories: Wizards
Save & Share:
Previous: Local Hoops Week 16 Pith
Next: Wiz Painting Skills
The comments to this entry are closed.