Local Poll Week 16: Hoyawn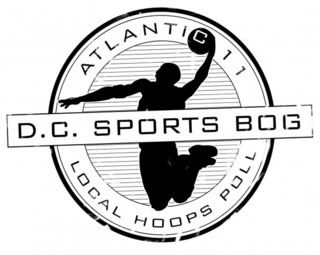 All those jokes early in the season about the Hoyas going coast-to-coast as No. 1? Well, they've pretty much done it, at least for the regular season. A loss to ranked Louisville isn't going to change anything next week, so congrats to John Thompson III on accomplishing one of the season's most important preseason goals. During the nadir of the Esherick years, Georgetown fans could only dream of an accomplishment like this.
Does the Maryland-Virginia Tech debate wage on? Well, not really. Virginia Tech is the week's biggest (and virtually only) mover, jumping from fifth to third and finishing comfortably ahead of Maryland. It's the highest the Hokies have been all season.
But the budding American-Navy debate is basically the same deal; AU has a better record and a better resume, but two head-to-head losses against Navy. I put the Mids one slot ahead, on principle, since I said last week that Tech has to be ahead of the Terps. But I was virtually alone in favoring Navy. American has 181 points and is ranked seventh, while the Mids have 20 points and are unranked.
A few other things: after having at least six ranked teams for the first 14 weeks of the season, the Commonwealth of Virginia suffers another week with just FIVE teams in the Atlantic 11. After being ranked no lower than fifth for the first 14 weeks of the season, George Mason suffers a second straight week at sixth. Also, you have one more day to enter the Atlantic 11 March Challenge for a chance to win a bunch of really second-rate but lovable prizes.
The AP ranks 'em like this: Georgetown (11th), VCU (three votes). The coaches rank 'em like this: Georgetown (10th). No other votes.
The RPI's Top 7 would go like this: Georgetown (8th), VCU (43rd), Virginia Tech (56th), Maryland (64th), George Mason (75th), UMBC (92nd), American (101st). Navy is 199th and looking into hotel rates in Dayton.
Results and pith after the jump.

1. Georgetown (24-4) 500 (50)
--Saturday vs. Louisville.
--Has gotten bailed out more times than a leaky dinghy. (Matt Bonesteel)
2. VCU (23-6) 427
--Saturday, CAA quarterfinal vs. Hofstra-Towson winner.
--Inspired by his countryman Alex Ovechkin, Rams' Kirill Pischalnikov begins sending the following message to random hot girls on Facebook: "I occasionally start for the best team in the CAA." (Scott Allen)
3. Virginia Tech (17-11) 335
--Tuesday vs. Wake Forest, Sunday at Clemson.
--Sure they lost by 40 two weeks ago. But that was two weeks ago and this is the Bog Poll. (Chris Olson)
4. UMBC (21-8) 329
--Saturday, America East quarterfinal vs. Stony Brook-Maine winner.
--If you're going to go to Hartford and lose, make sure it's to U-Conn. (Paul Campbell)
5. Maryland (18-12) 260
--Sunday, at No. 10 Virginia.
--Pencil them in to your brackets! (Note: Pith written at about 8:45 on Sunday night). (Matt Bonesteel)
6. George Mason (19-9) 241
--Saturday, CAA quarterfinal vs. Northeastern-James Madison winner.
--The NIT Bubble portion of the Atlantic 11 begins here. (Markus Videnieks)
7. American (18-11) 181
--Wednesday, Patriot League quarterfinal vs. Holy Cross.
--Diane Rehm and David Aldridge spotted doing the Soulja Boy during Eagles' postgame celebration after clinching Patriot League title. (Bill Fitzgerald)
8. Morgan State (19-9) 167
--Thursday vs. Coppin State.
--After losing 39-36 to the Bears, Delaware State officials decide that "Turn Off The Shot Clock Night" isn't such a hot idea. (Glenn Arnold)
9. Old Dominion (17-14) 89
--Saturday, CAA quarterfinal vs. William & Mary-Georgia State winner.
--Fourth in the CAA, first in Norfolk. (Markus Videnieks)
10. Virginia (13-13) 59
--Tonight at Georgia Tech, Wednesday vs. Duke, Sunday vs. No. X Maryland.
-- I can't believe they're still in this poll. (Jason Anderson)
11. Loyola (18-13) 40
--Saturday, MAAC quarterfinal vs. Fairfield.
--[Only one attempt at pith was made, despite the fact that the Greyhounds are coming off a loss to Marist, which has a player named Spongy Benjamin. The guest editor is deeply disappointed in the voters.] (David Larimer)
Also receiving votes: Richmond 28, Navy 20, Hampton 15, George Washington 12, Norfolk State 5, VMI 2, Coppin State 1, Mount St. Mary's 1, GW women 1, Mary Washington women 1, Gus Johnson 1.
By Dan Steinberg | March 3, 2008; 6:20 PM ET
Categories: College Basketball
Save & Share:
Previous: Kournikova to D.C.
Next: Ovechkin is Good
The comments to this entry are closed.