Local Poll Week 17: Mason up, Terps Down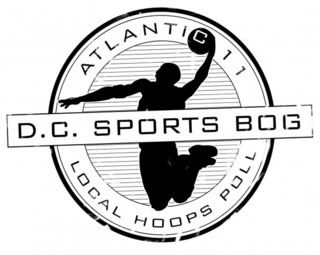 Let me present the final Atlantic 11 before Selection Sunday. Only one school remains in the same slot it occupied during our preseason poll lo these many months ago. That school is Georgetown, which has yet to budge from the top spot. The conference race is also mildly interesting; the A-10 went from two preseason schools to zero, while the CAA went from three to four, a full 36 percent of the field.
Here's your weekly poll ombudsman report: I'm surprised but not offended to see George Mason leap from sixth to second on the strength of three wins in three days at the CAA tourney. UMBC is back up to third in the poll, while Maryland dips to eighth, behind Morgan State (which it beat head-to-head) and American (which it did not). Maryland also remains two slots ahead of Virginia, despite last week's result, which seems about right considering the Terps previously beat the Cavs at home and finished four spots higher in the ACC. I left Virginia out entirely, but in a head-to-head with, say, American on a neutral floor, it'd be hard not to take the Cavs.
If I have a complaint, it comes at the bottom: I believe Mount St. Mary's--by virtue of tonight's appearance in the Northeast Conference final--should be ranked, certainly ahead of an Old Dominion team that couldn't win a single postseason game. I also might prefer seeing still-alive Richmond ranked ahead of Old Dominion and William & Mary, whom the Spiders beat head-to-head. And GW clearly deserves zero votes; all seven of the Colonials' tallies came from one deranged voter.
The AP ranks 'em like this: Georgetown (9th). No other votes. The coaches rank 'em like this: Georgetown (9th). No other votes.
The RPI's Top 7 is changing by the minute, but as I type it would go like this: Georgetown (7th), VCU (53rd and in trouble), Virginia Tech (58th), George Mason (62nd), Maryland (70th), UMBC (88th), American (92nd). Mount St. Mary's, by the way, is 166th and could be a Dayton candidate.
Results and pith after the jump; remember to watch the Mount tonight.

1. Georgetown (25-4) 440 (44)
--Thursday, Big East quarterfinal vs. Villanova.
--Forget the consecutive Big East regular season titles. Did John Thompson III's old man ever go wire to wire atop the Atlantic 11? Didn't think so. (Scott Allen)

2. George Mason (23-10) 359
--NCAA tournament first round, TBA.
--Before you start calling George Mason "this year's George Mason," remember, this year the Patriots earned an automatic bid. And no one got punched in the groin. (David Larimer)

3. UMBC (23-8) 301
--Saturday, America East final vs. Hartford.
--In questionable move, Retrievers celebrate week off between America East semifinal and final in South Padre Island. (Matt Bonesteel)

4. VCU (24-7) 294
--Clinched NIT berth; NCAA fate unknown.
--Rams came down with a bad case of Laimis Kisielius on Sunday. Now they have to wait a week to find out if they're going to live. (Jamie Paquette)

5. Virginia Tech (18-12) 263
--Friday, ACC quarterfinal vs. Miami-N.C. State winner.
--Making 9-7 in the ACC less meaningful one season at a time. (Matt Holohan)

6. American (20-11) 208
--Friday, Patriot League final vs. Colgate.
--Dozens of student fans apparently rushed the court after a successful practice Monday afternoon. (Sean McLernon)

7. Morgan State (20-9) 154
--Wednesday, MEAC quarterfinal vs. S.C. State.
--Strangely, the Bears MEAC Tournament Shuffle is eerily reminiscent to the Percolator. (Jarrett Carter)

8. Maryland (18-13) 143
--Thursday, ACC first round vs. Boston College.
--May suffer in ACC tournament from looking ahead to rematch with VCU in the NIT. (Tom Hall)

9. William & Mary (17-16) 73
-- Postseason fate unknown.
--More big closeouts this week than Mattress Discounters!!! (Adam Anthony)

10. Virginia (15-14) 65
--Thursday, ACC first round vs. Georgia Tech.
--Impressive win over Maryland's corpse Sunday night. (Markus Videnieks)

11. Old Dominion (17-15) 31
--Postseason fate unknown.
--Failure to win a single post season game = 11th place, no pith. [the editor]

Also receiving votes: Mount St. Mary's 17, Hampton 16, Navy 12, Richmond 11, Loyola 10, George Washington 7, Norfolk State 5.
By Dan Steinberg | March 12, 2008; 1:29 PM ET
Categories: College Basketball
Save & Share:
Previous: More All-ACC Voting Shenanigans
Next: Caron Butler's Having a Birthday Party
The comments to this entry are closed.