Mason Baby

Three local teams will be playing for NCAA bids within 100 or so miles of D.C. this week. All three were favored to win tournament berths. Who said the locas were down this year?
The first game arrived tonight, when George Mason defeated William & Mary and its incorrectly named coach (Shaver? with a mustache like that?). At the end, after everyone had rushed the court, Mason Coach Jim Larranaga whistled a lot, the players cut down the first net, all the fans left the court, the support staff cut down the second net, and we were all left to consider just how many local programs will get bids while Maryland plays in the NIT. Current estimate: Georgetown, Morgan State, UMBC, American, George Mason, and maybe Mount St. Mary's and/or Virginia Tech.
And with Larranaga's son beaming, and the band playing Livin' on a Prayer, and former star Lamar Butler's dad handing out hugs and doing TV interviews, and players reciting quotes their coach had given them before the game, it did feel an awful lot like 2006.
The crowd was late-arriving and filled with Tribe bandwagoners who had, by reports, been absent from the first three games. Much more so than Mason, the Tribe kiddies pandered to the ESPN cameras, with all manner of four-letter slogans. "Cinderella Story Happens Now," was one. "Tribe Scalps Pats Tonight" was another. I can see why they want to keep their feathers.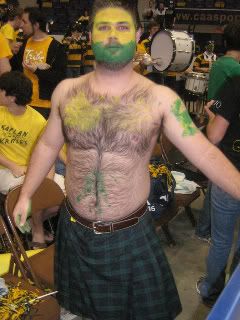 "So this is what it feels like to be on ESPN," read one sign which got a particularly nice run. Not sure whether the sign praising Erin Andrews made it on TV, but she's really made it when people bring signs to games she's not working. I also liked the one that said "Duke Sucks," which seemed both out of place and appropriate. Many of the signs were left behind. I took three home with me.
The Mason fans were mostly content to call and respond with GEORGE, MASON, GEORGE, MASON. The William & Mary, fans, on the other hand, trotted out the "George Who?" signs, and the "MASON SUCKS," chants. Seven minutes before tip-off, they began their first culturally squishy Tomahawk chop chant. Seriously, everyone, it's 2008. Feel free to stop pretending you're in a Western any time now.

The students were confined in these little holding cells behind both baskets, the better to provide pleasing images of crazed fans running onto the court from one end or the other. And as Mason took its double-digit lead and played the sort of Saran Wrap defense that could make things a bit tricky for some four seed, the security people began gathering around Mason's end, preparing for the running of the students.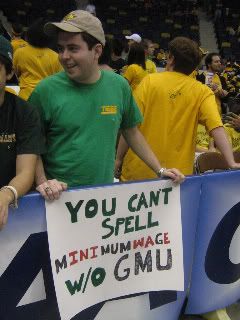 Among the runners were three large-ish shirtless chest-painted chaps, who began this affront to society at the beginning of the CAA tourney.
"Well do it in the NCAAs too," promised Ben Lewis.
"Why have a six pack when you can have a keg?" pointed out Sean Gagnon.
"Exactly," Lewis agreed.
I asked whether they had gotten a lot of lady friends by going shirtless.
"Not quite," Ryan Gleich said. "A couple of winks and a couple of grimaces, I guess."
"A couple of 'Ewwwws,' " Gagnon added.
Across the court there were shirtless William & Mary fans wearing kilts.
"You don't have to wear underwear under this thing, either," said Matt Vancura, one of the kilted ones. "Got to go all the way."
Meanwhile, Doc Nix and his Green Machine were wiping the floor with the overmatched tooters from William & Mary. The Green Machine played Daft Punk and Kanye; William & Mary countered with the theme from Rocky. The Green Machine played the White Stripes; William & Mary countered with "Eye of the Tiger." This was a 16 seed against a one, and the 16 never made a run.
There were, of course, more fans in costume. A William & Mary supporter dressed as a bear; "we just won it as a prize one time, we thought it would draw attention," said John Ellison, who proved correct with that assessment. On Mason's side I saw a super hero wearing underwear, a Burger King King and a man dressed in furry camouflage.
"I'm an ambush," he said. Cool.

Last time I wrote about fans, I was asked to add a little about the game. We had others who filled that role, but here's a little about the game: Laimis Kisielius scored 22 points for William & Mary, John Vaughan played demonic defense for George Mason, the Tribe shot 38 percent, and George Mason won. Then everyone ran out onto the court, although no one really seemed to get trampled too badly.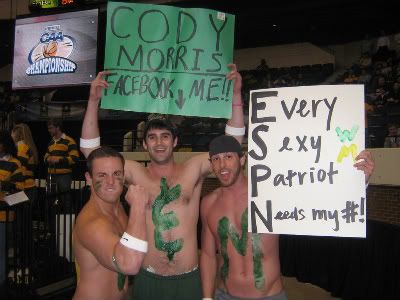 By Dan Steinberg | March 10, 2008; 10:59 PM ET
Categories: College Basketball
Save & Share:
Previous: Gilbert: I'm Not Scared
Next: AU and Spinal Tap: The Video
The comments to this entry are closed.