Mason on the Road to New Orleans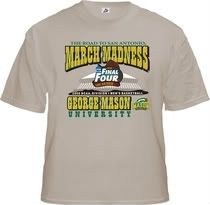 George Mason seems likely to be a 12 or a 13 seed in next week's NCAA hoops bracket, making a return trip to this year's Final Four a tad unlikely. Which is perhaps why the school (briefly) instead set its sights on a trip to the 2003 Final Four in New Orleans.
The CAA championship, you see, quickly yielded these very visually pleasing "Road to San Antonio" George Mason t-shirts, pleasantly affixed with an image of what appears to be the New Orleans Superdome. Which, technically speaking, might be on the road from Fairfax to San Antonio, but so is Harrisonburg, and yet I didn't see any t-shirts bearing images of chicken processing plants. By early this morning, before I could finish this post, the image of the Superdome had been yanked in favor of a basketball rising out of the ground, mid-major-like. Still no Alamodome, though. A book store source posted an explanation on a fan message board, where a sharp-eyed fan had discovered the glitch:
Because it has the Final Four logo on it the design had to be approved by the NCAA and they didn't even catch the mistake. Bad news is that there isn't enough time to negotiate the rights to use the Alamodome on the shirt. A redesigned shirt will have half a basketball in place of the dome to resemble a dome. It doesn't look bad and will get posted tonight sometime. The good news is that the shirts with the wrong dome are already made and on their way here so the vendor is giving us a discount for the mistake which we will pass on to customers.
Um, hello collector's edition Final Four shirt, meet my inverted jenny stamp.
Although actually, a literal reading of the "Road to" cliche might make for some tremendous t-shirts. If the Terps get in and get to play at Verizon, tell me you wouldn't buy a Maryland "Road to the NCAA Tournament" t-shirt with images of the Hyattsville Court House, downtown Mt. Rainier and the Brentwood Metro Station. I would, anyhow.
If Mason's drive for the 2003 tourney isn't your thing, the bookstore was also briefly selling shirts celebrating Mason's 2007 NCAA tournament berth. Which didn't, you know, happen. Those shirts have also vanished. Read more at the CAA Zone.
By Dan Steinberg | March 12, 2008; 8:34 AM ET
Categories: College Basketball
Save & Share:
Previous: Things You Didn't Know About Mason (Pt. I)
Next: Nats Pick Stadium Music (Updated)
The comments to this entry are closed.