Ovechkin is Good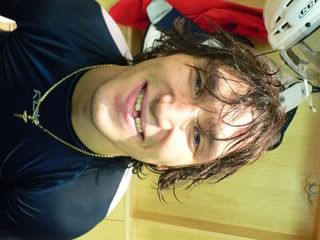 BETHESDA--I'm watching the Washington Capitals hockey game from the Comcast SportsyNet newsroom, and there are five minutes left in the first period and the Caps are winning 5-0. Alex Ovechkin has scored his 50th, 51st and 52nd goals, and a lot of people in the stands have lost their headgear. Gary Williams is loudly proclaiming that this game is absolutely, 100 percent in the books, and is recommending Bruce Boudreau insert his walk-ons.
A few days ago, Boudreau had some pointed words for his team, issued through the media. They seemed to have worked.
One more goal, and the Caps will request to bank these tallies for future usage.
UPDATE: Your record book numbers:
Most goals in a game, 12, in February 1990, in a 12-2 win over Quebec.
Biggest shutout, 9-0, in March 1996, in a win over Vancouver.
Most goals in a period, 8, in February 1999, in a 10-1 win over Tampa Bay.
Most goals by a player, 5, Peter Bondra in February 1994 and Bengt Gustafsson in January 1984.
UPDATE:
Up to 6 goals. Last time the Caps scored 6 in a game: Jan. 21, 2008.
Total times the Caps have scored 6 in a game this season: Four.
High goal tally for the Caps this season: Eight.
By Dan Steinberg | March 3, 2008; 7:40 PM ET
Categories: Caps
Save & Share:
Previous: Local Poll Week 16: Hoyawn
Next: Today in Smoot: Meet Ryan Smoot
The comments to this entry are closed.