Purdue Practices, Duke Eats Lunch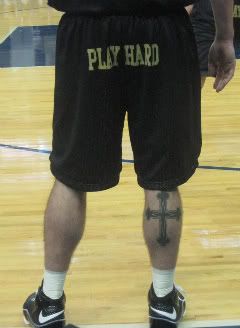 In the past few hours, Xavier practiced, Georgia Coach Dennis Felton was handed DVD's by fans in the crowd who were showing at the Atlanta Film Festival, several Baylor players expressed their admiration for Gilbert Arenas, and I seethed at the NCAA's tech people.
Duke has arrived, and thus there are a lot of clean-cut fellows sitting in the hallways eating oranges and Sun Chips. The Blue Devils will have the next open locker room, and the next open practice, at 4:25.
Meantime, Purdue just finished up on the practice court. I've seen a fair number of these day-before practice things; often, they're glorified shootarounds. Sometimes teams go elsewhere to do their real work. Well, Purdue was doing work. Coach Matt Painter did a fair bit of screaming motivating, including motivating some camera persons to get out of his players' way. Wind sprints were prominently involved. As was full-body contact. At one point, Painter said, roughly:

"GET IN THERE! GET IN THERE! GET IT! USE WHAT THE LORD GAVE YOU! YOU'VE GOT TO WIN THE BATTLE! YOU DIDN'T WIN IT LAST TIME!!!"
Soon after, Purdue finished, and the fans applauded, which seemed appropriate. The intensity level out there, by my estimate, was about fourfold greater than at a typical NCAA tournament "practice."
"That's the first thing I noticed," said actual reporter Eric Prisbell. "I was like, 'Wow, Purdue's going pretty damn hard.' "
"Incredibly entertaining," said one camera man.
I asked a Purdue staff member what was the philosophy behind deploying such emotion during what's traditionally a slow-paced day.
"That was a light one," he said, laughing. "That's the way we play. We try to out-physical and out-tough people."
Which, I suppose, might be admirable if the Boilermakers weren't facing the Sports Bog-endorsed Baylor Bears tomorrow.
By Dan Steinberg | March 19, 2008; 3:18 PM ET
Categories: College Basketball
Save & Share:
Previous: Root for Baylor
Next: Duke Discusses Maryland
The comments to this entry are closed.