Purdue's Paint Crew is Here

The five kids dressed as painters were pretty obvious in this crowd for several reasons. For one thing, they were wearing full-body painters suits, complete with the nifty little hats. For another thing, they were the only fans I saw who were asleep in their seats.
There were five of these chaps, and they drove through the night from West Lafayette to D.C., armed with five tickets to the game and five of these painters suits.
Well, ok, they're not really painters suits. They're dust-repellant suits used for chemical spraying. One of these kids' parents owns an antiques and furniture shop, but they also deal with overstock items. Hence the suits.

The Purdue student section is, of course, known as "The Paint Crew," in honor of Coach Matt Painter. (Used to be The Gene Pool, back when Gene Keady was around. Here's hoping that the Kansas State student fan club is known as The Self Loathers.)
Anyhow, the Paint Crew has thousands of members, but Sam, Vince, Andrew, Jimmy and Nick are the only five we know of who decided to attend today's game while actually dressed as painters. They left at 9 last night, took turns driving and sleeping, arrived in D.C. around 6:30, and promptly set out to find a paint store, so they could dab their chemical suits in black and gold. Problem is, they couldn't find a paint store. Target wasn't open. They spent more than two hours looking for paint, before winding up at an Auto Zone and getting black and yellow spray paint, which was close enough.
They they put on their suits and did what any Purdue student fans would do in this situation: went to tour the monuments with the rest of the spring tourists.
"Some cheered," Sam told me. "Some said, 'Are you crazy?' "
They also happened into a pre-game Xavier pep rally at the Marriott, and so, wearing their painters suits, they proceeded to sing the Purdue fight song.
"It went over well," Sam said. "Initially they were a little put off, but we went back later and some of the fans were buying us drinks."
Of course, it had been a long day, and so when I went up to the Paint Crew chaps, 40 percent of them were asleep. Maybe they were just gearing up for the late game. They plan to leave sometime tonight if Purdue loses, and probably somewhat later than that if Purdue wins.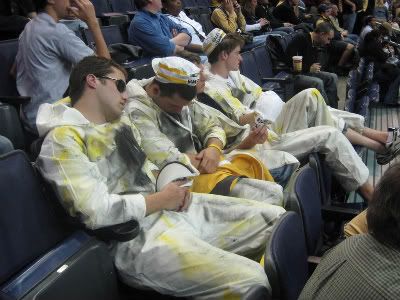 By Dan Steinberg | March 22, 2008; 4:13 PM ET
Categories: College Basketball
Save & Share:
Previous: Scalpers, and Gilbert, and Cameron Crazies
Next: 'Eers Win, Eat Manny & Olga's
The comments to this entry are closed.