Root for Baylor

Have tickets to tomorrow's Verizon Center sessions but not sure whom to support? Well, Duke's out, for obvious reasons. Belmont is too much of a longshot. Georgia is too easy to root for but impossible to root against, which rules out Xavier. Arizona's been to 427 consecutive tournaments. That leaves Baylor, Purdue and West Virginia. Let's try Baylor first. Ok, Baylor, anything quirky going on?
"God love you," said assistant coach Matt Driscoll. "We have a lot of that." Such as?
"Well, obviously we've got guys who wear pink shoelaces," Driscoll began.
Oh, right. That would be 7-foot sophomore Josh Lomers, who was indeed wearing bright white sneakers with bright pink shoelaces at the time.
"Hey Josh, why you wear pink shoelaces?" asked Fred Ellis, doing my work for me.
"Because I can," Lomers shouted back.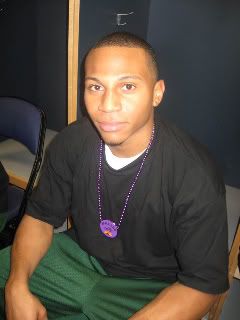 "What's the reason behind it?" tried junior forward Delbert Simpson.
"Because I can," Lomers offered. "Every pair of shoes I have, I wear a different kind of shoelaces. They're always odd, I guess, but not necessarily pink." Other options include sky blue, neon green and orange laces. Right.
"That guy's just weird," said star guard Curtis Jerrells, sitting across the room.

Of course, it's worth noting that Jerrells entered the Verizon Center today wearing purple beads and a large plastic "Malibu" medallion around his neck.
"I wear beads, man," he said. "It's just something different. Some guys wear jewelry or chains, I just like to wear beads. Ain't nothing behind it. I usually wear silver and gold, but I just had to grab the purple." Right.
Next to Jerrells sat Simpson, wearing a shirt that blared "Justice" on the front, with this message on the back: "Just Us; Don't Drink the Poison." These shirts were made at the beginning of the Big 12 season to keep the squad grounded. The players thought of that Justice-Just Us homonym.
"It's kind of like the whole Bill Belichick thing; so what, you've won all these games, but you haven't won it all," explained Richard Hurd. "We started getting giddy, all happy; I had to bring us back to earth."
Of course, there still was a Big 12 stumble--four straight losses--and Driscoll said he wasn't going to cut his hair until the team won, and Kevin Rogers said "that's a bet," and Driscoll said "If we win you can do whatever you want with my hair," and since that moment, after every win a different coach gets buzzed. Four shaved heads and counting.
"They actually look better with their haircuts," said guard Tweety Carter, who does much of the shaving. "It just feels good to make them look better."
Two more wins and Scott Drew is going under Tweety's blades. And then there's Mamadou Diene, the 7-foot center from Senegal who is known universally as "The Mayor," is perhaps the most popular student at Baylor and was once asked to fill-in for the women's basketball coach in throwing out the first pitch at a Bears baseball game.
"Threw a 45 mph pitch, barely crossed the plate," Driscoll said. "There's not another kid in this entire 65-team tournament that's thrown out a first pitch at an NCAA baseball game. Not one. Find one."
Equally notable, perhaps, is the fact that Diene doesn't own a cell phone. Never has.
"He's got a cordless home phone; he says that's his cell phone," Jerrells said.
"I might be the only person in the United States that doesn't have a cell phone," Diene acknowledged. "Sometimes it's good to hide; sometimes it's nice to go sit somewhere where no one can find you."
Which sounds all noble and peaceful, until his teammates tell you that he constantly borrows Fred Ellis's phone to make calls, which is why they say Diene has the "Fred Wireless Plan."
Plus, LaceDarius Dunn's nickname is either "Cool" or "Kool," depending on who you ask, and team manager Tim Tarnowski sometimes breakdances for the players in the locker room after wins.
"I don't know what they think of it, exactly," Tarnowski said. "It's entertaining, at least."
By Dan Steinberg | March 19, 2008; 1:54 PM ET
Categories: College Basketball
Save & Share:
Previous: The Final Four Will Be....Celeb Edition
Next: Purdue Practices, Duke Eats Lunch
Posted by: odessa steps magazine | March 19, 2008 2:39 PM | Report abuse
Posted by: ScottVanPeltStyle.com | March 19, 2008 3:20 PM | Report abuse
Posted by: Johnny | March 19, 2008 3:23 PM | Report abuse
Posted by: Kevin | March 19, 2008 8:12 PM | Report abuse
Posted by: sitruc | March 20, 2008 3:30 AM | Report abuse
The comments to this entry are closed.