Terps Have a Meltdown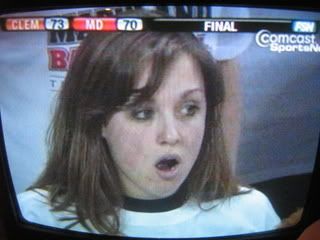 I thought about going to bed somewhere in the boring middle of the second half of the Terps-Clemson game. Then I figured, what the heck, this is the best time of the year for college basketball, you never know what these crazy kids might do, might as well stick around. Etc.
Well. Jeez. A twenty-point lead? Really? In the most important game of the year? Let's search for some sober, philosophical perspective on what that loss means. Let's do so by copying comments from a Terps message board in the seconds immediately following the loss. Like how about this thread:
Raise your hand if you were at both the Wake football game this year AND Clemson bball game. I'm pretty sure I could watch my first born son die horribly and it wouldn't faze me because of these two outings.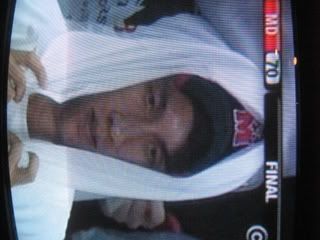 An angels-on-the-head-of-a-pin style debate cropped up elsewhere, philosophical musings on a thread titled "What did you do when we lost."
possibly broke a couple fingers in my right hand, might have broken a seat in comcast, and now back in my room taking double shots of bourbon
Hole in the bathroom door.
I said "F*** my life" and chucked the remote at the wall, threw the pillows off the couch, and yelled a little over 30 profanities.
Through remote at the wall, screamed out some profanity, then stormed out the room.
laughed bc i knew it was coming. i then punched my tv and it is now broken
Just watched in silence. Dropped about 100 F bombs and tossed the cell phone before that though.
I've basically been catatonic since it happened.

Sat there in disbelief, wanting to throw up. My girlfriend may or may not have dumped me after the tirade I let out after the game. I don't know.
I punched my ceiling
I screamed threw my remote and then power bombed my angry chair
put my shirt over my head and then just hung my head in numbing silence for about 5 minutes before trudging upsatirs to the bedroom.
I am still cleaning the mess in my pants
And how about from the official in-game thread.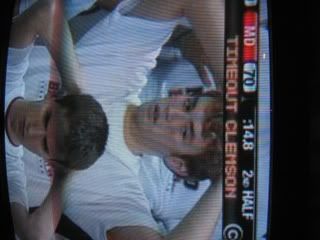 Im gonna have to commit suicide now
DUDE WTFFFFFFFFFFFFFFFFF
Any idea who our 1st round NIT opponent will be?
i hate my life
omg
And losing on a three by that white trash midget, burns me the eff up.
Season over. The most incredible collapse ever.
I think this is really the dumbest team to ever play basketball.
kill me
By Dan Steinberg | March 2, 2008; 10:47 PM ET
Categories: Terps
Save & Share:
Previous: Atlantic 11 Goes TV
Next: Ronnie Said Knock You Out
The comments to this entry are closed.