The Best Sports Weekend in D.C. History*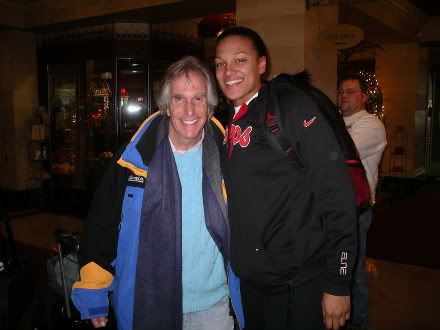 Due to daddy day care demands, I did not post a word between Thursday late afternoon and Monday late morning. The three days I skipped just happened to form one of the most amazing three-day periods in D.C. history, which is here defined as "the 18 months since this blog launched." You probably know everything that happened since then, but to help your confused mind I'm going to rank the top 11 things, in descending order of life-changing importance.
11. The GW women lose in a valiant Sweet 16 matchup with Rutgers. Ok, maybe that's not a highlight, but A-10 player of the year Kim Beck playing the last eight minutes of her brilliant career with a massive bandage on her chin after slamming her face into the ground sure was. If she had been named "Tyler Hansborough," at least several middle aged pale-faced TV announcers would have taken one look at that bandage and fainted out of ecstasy.
10. Blogs blogs blogs! More D.C. Sports Blogs! More on this later, but D.C. United (Behind the Badge!) and a prominent local atlhlete have both launched blogs in recent days. (This new athlete blog is a few weeks old, but I did in fact learn about it over the weekend, and it has massive, massive potential. More on Tuesday.)
9. After scads of blogs mention the fact that the president's first pitch at Nats Park would be caught by a drug distributor, the Nats cave and put their manager behind the plate. And yeah, this was just an excuse to mention the fact that D.C. did us all proud with that reaction to the Prez. Kornheiser said on his radio show this morning that the boo-cheer ratio sounded like 50-50 to him, so maybe the TV feed was somehow biased in favor of the booers, but on my set that didn't sound like no 50-50 ratio. I hear the White House claimed the fans were really shouting "Buuuuuuuuush."

8. Let's wait until the tournament is over before we judge my pre-tournament bracket advice, but suffice it to say that the number one, most important, overarching piece of advice was do not NOT NOT NOT NOT pick all the top seeds to go to the Final Four. My only hope was that my advice would not make me look like a complete fool. Yeah. Well.
7. Before there was Sunday's ballgame, there was Saturday's exhibition game, and Friday's workout, and most importantly, Thursday's "Welcome to the Park" event, at which Dmitri Young emerged from the bus, hair flying, with the greatest suitcase ever. Mister Irrelevant has infinitely better on-the-field photos (and I'm glad to know we were similarly captivated), but seeing him emerge from the bus like this suddenly made me weak-kneed. I don't know what's in that case, but it's sure not clothes.
6. The Maryland women roll on to the Elite Eight, one game away from a return trip to the Final Four, with only Stanford--the slightly controversial two seed still slightly bitter over the Terps' slightly controversial one seed--left in the way. Discussion question: If the Terps go, is the women's Final Four worth a D.C. Sports Bog road trip, or not really? Anyhow, most importantly, as seen above, many members of the team got to pose for photos with the Fonz. I have no idea where or why, but it's awesome.
5. I'll post more on this later, but please click here. It's never the wrong time for some corporate-sponsored Gilbert wackiness.
4. The Toronto Raptors continue to crater, the Sixers' hot streak has ended, the Wiz earned two road wins on the brutal West Coast swing, and now, after one more road loss at Utah, the Wiz will head home with an inside track to set up DeShawn vs. Lebron in the playoffs. At worst, they'd be tied with Toronto, with which the Wiz hold the tiebreaker. Then comes five of the last eight games at home, and only one of those five home games comes against a winning team.
3. The Caps are insanely hot (12-4 since the trades?), the 'Canes finally lost a game, and now the Caps are being described nationally as "peering up from ninth like so many flesh-eatin' piranhas." Trust me, I've watched the movies, and the team that starts miserably, fires its coach on Thanksgiving, gets pretty hot, trades for a cheese-eating French goalie and then plays .750 hockey down the stretch doesn't wind up one point short. That's just not the way these things end.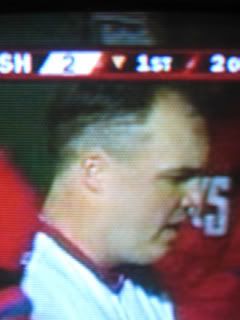 2. I guess a walk-off homer from your franchise player isn't a bad way to open a new park. I wouldn't know, because I pulled a Kornheiser and went to sleep around the fourth inning, except I one-upped Kornheiser by failing even to make it to the park and use my credential to watch history for free. I did, however, get to see George Washington win that president's race on TV. I really thought they'd give the opener to Teddy. At this point, I don't know how they ever let him win. Video (of the homer, not the prez race) right here. Plus, we got to see Nick Johnson's new haircut, sort of.
1. Not even close. Gilbert's quote: "I told him whatever [Antawn Jamison] wants, give it to him and I'll take the pay cut." This means Gilbert's staying, and baby Steinberg gets her baby food for another year. Oh, and his advice on writing a successful blog? "Be honest, be funny, entertaining. Have drama. Drama sells."
[* Loosely defined.]
By Dan Steinberg | March 31, 2008; 12:46 PM ET
Categories: Caps , College Basketball , D.C. United , Nats , Redskins , Terps , Wizards
Save & Share:
Previous: D-Steve's Birthday Party: Biz Markie
Next: Giant Racing Teddy Attacks the Braves
Posted by: Anonymous | March 31, 2008 1:27 PM | Report abuse
Posted by: John Malkovich | March 31, 2008 1:40 PM | Report abuse
Posted by: Matt Brown | March 31, 2008 1:43 PM | Report abuse
Posted by: jer | March 31, 2008 2:05 PM | Report abuse
Posted by: Sherry | March 31, 2008 2:13 PM | Report abuse
Posted by: Anonymous | March 31, 2008 3:09 PM | Report abuse
Posted by: greg | March 31, 2008 3:18 PM | Report abuse
Posted by: sitruc | March 31, 2008 3:21 PM | Report abuse
Posted by: Catherine-Lucia | March 31, 2008 3:45 PM | Report abuse
Posted by: WOW | March 31, 2008 3:55 PM | Report abuse
Posted by: Unsilent Majority | March 31, 2008 4:13 PM | Report abuse
Posted by: Bill Walsh | March 31, 2008 5:31 PM | Report abuse
Posted by: JoshC | March 31, 2008 7:07 PM | Report abuse
Posted by: wendy | March 31, 2008 7:26 PM | Report abuse
Posted by: DCUMD | March 31, 2008 8:44 PM | Report abuse
Posted by: sitruc | March 31, 2008 9:42 PM | Report abuse
Posted by: sitruc | March 31, 2008 10:04 PM | Report abuse
Posted by: sitruc | March 31, 2008 11:53 PM | Report abuse
The comments to this entry are closed.