This Game is Electric!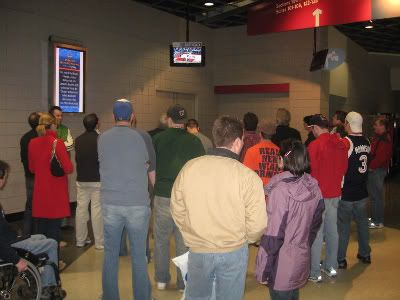 Here's how you know when you've got a stinker of a game; when everyone leaves the arena and goes out to the concourse to gather around the closed concession stands and the small televisions to watch a marginally more interesting finish between Marquette and Kentucky, made especially more interesting by the tortured soul who needed Marquette to win by some large number and was thus rooting feverishly for overtime. (Marquette won by 8, but I left before it was over so I'm not sure if he covered.)
Unless Baylor produces a miracle here, the first afternoon will end with zero lower-seeded winners, zero last-minute gamewinners, zero games decided by fewer than eight points, and two dueling female fans of Purdue and Baylor yelling across the court at each other to complain about the refs.
The previously unmentioned highlights from Verizon: a Georgia fan in a Herschel Walker jersey, the Purdue band doing a pretty sad imitation of the Mason band doing "Livin' on a Prayer," a Georgia fan with a sign that read "Georgia basketball: a tradition since last Friday," and my discovery of some melted Heath ice cream bars, which could be ripped open and dumped into NCAA coffee to create a truly lovely sweetened hot beverage. Up next: Duke-Belmont! That ought to be fun!
Final note: BCS programs should not be permitted to play "Livin' on a Prayer."
By Dan Steinberg | March 20, 2008; 5:03 PM ET
Categories: College Basketball
Save & Share:
Previous: Stanley Burrell is Excited
Next: Observations From the Early Games at Verizon
The comments to this entry are closed.