Belmont: Sort of Exciting

I'm not just trying to be needless difficult here, but I was courtside for almost all of the second half of Belmont's near-miss against Duke. It was fairly electric--with West Virginia fans waving Belmont shirts in the air and Arizona fans chanting "Let's Go Belmont" and Belmont fans with painted faces just going berserk and the kids on Belmont's bench finally breaking out that move where everyone stands up and then one short kid sort of squats down and puts his arms out to hold back his teammates, presumably keeping them from running out on the floor and tackling Greg Paulus.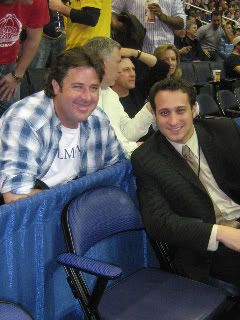 Right behind me, screaming at the refs, was country superstar person and Belmont fanatic Vince Gill, although I of course didn't know this until the Washington Times's Ryan O'Halloran told me after the game.
"Oh yeah, every night," Gill later said to O'Halloran of his ref-working ways. "That's the only reason to come."
The notoriously silent Verizon Center actually came to life for a basketball game--all the sections, not just the slivers of, say, weird Purdue and Baylor people. The Bruins were serenaded with ovations during timeouts, an ovation from the entire arena when they left the floor, and an even louder ovation when Coach Rick Byrd came out during the West Virginia game to shake hands and hug Gill.

Ovations are cool and all, and that's about as great a first-round game as you can get (one missed last-second prayer notwithstanding), and there were those little moments where you looked at the person sitting next to you (in my case, Bram Weinstein) and sort of nodded, like "yeah, this works." And yet having said all that, I still think if you're going to do nothing but watch basketball all day, your time is better spent selling your tickets and buying 13 extra orders of mozzarella sticks at a bar. Here are the things a bar has that the Verizon Center doesn't:
* Beer.
* Better food. I mean, you could watch these games at Ricky's Corner Saloon, Hair Cuttery and Plumbing Workshop, and you'd get better food. Trust me.
* An easier vantage point for viewing the best game of the moment, plus the ability to watch one ending after another, plus the ability to find action during commercial breaks, plus the ability to play billiards during the first eight minutes of the first half, when let's be honest, you just don't care what the score is. Most importantly, you don't go dead for 30 whole minutes between games, when there's nothing to do but walk around and stare at drunk West Virginia fans stumbling through the concourse yelling "Let's Gooooooo, Mountaineers!"
* Beer.
The only thing bars lack that I'd miss would be mascots and bands, but I have to tell you, Gunston and the Green Machine aren't walking through those doors this weekend. You think there's painted faces at the arena? Outside of band members and cheerleaders, I saw two all day. You think there are at least funny t-shirts? Outside of "You Got Pittsnogled," I didn't see any. You think there are funny signs? The most noted late-session sign spelled out CBS with "Call Back Spitzer." I asked the sign's holder what it meant and I still have no idea. You think there are costumes? I saw none. NONE!!!!!!
So how much will you offer me for my credential? You'll probably have to shave your head and grow a bad beard, and you might have to sit next to Mike Wise.
By Dan Steinberg | March 21, 2008; 9:23 AM ET
Categories: College Basketball
Save & Share:
Previous: Observations From the Early Games at Verizon
Next: Lindsay Czarniak Bobbleheads
The comments to this entry are closed.