Wizards Take Flight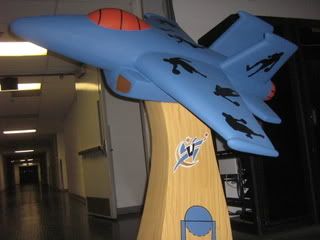 With Gilbert's promised appearance on the practice court to actually practice this afternoon, the D.C. media stars are out. The doors haven't even opened yet, and already Lindsay Czarniak and Sara Walsh and Dave Johnson are here, along with usual suspects from the SportsyNet and the Washington Times and so on.
And yet, sadly, we've been told there's a 0.00000000000 percent chance Gilbert will adress the media today. He doesn't play that two-days-in-a-row thing. One staffer put the number at closer to 0.00003 percent, but still, you'll probably have to imagine to yourself the things Gilbert might say after a Tuesday morning practice.
With the quirky one silenced, the featured attraction today is the airplane pictured above, part of the Crystal City BID's six-month "Celebration of Flight," which highlight's the area's connection to aviation (a big airport and the presence of Boeing). There are 50 planes; this Wizard-themed number (sponsored by Archstone Apartments) was designed by local artist Amy Marshall, who will be on hand today as the Wizards autograph the plane. There's some doubt as to whether Gilbert will sign the plane, because were he to enter a public hallway the media would tackle him and batter his head with their microphones and mini-casette recorders.
But all the rest of the Wizards should be signing.
By Dan Steinberg | March 4, 2008; 12:14 PM ET
Categories: Wizards
Save & Share:
Previous: Big South Tourney Preview
Next: Local Hoops Week 16 Pith
The comments to this entry are closed.