Xavier Grows Beards, W. Va. Dances

Using post-game Verizon Center locker room interviews to preview tomorrow's Xavier-West Virginia Sweet 16 showdown....
* When he took the court against Purdue last weekend, Xavier big man Jason Love hadn't shaved his beard since the Atlantic 10 tournament.
"Ask him, 'Are you keeping your grimy beard for the whole tournament?' " suggested Dante' Jackson.
"That's what we call it: The Grimy Beard," Adrion Graves added.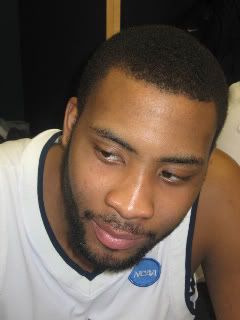 "That's how they get down in Philly: The Grimy," thirded C.J. Anderson, who said The Grimy was meant to emphasize Love's down-and-dirty basketball style.
"I've got to get it shaped up," admitted Love, who hadn't decided at the time whether to turn his facial hair into a full-on playoff beard. A reporter asked the Philly native whether he was trying to mimic West Virginia's unkempt, shaggy, rifle-carrying Mountaineer mascot in advance of tomorrow's game, whereupon Love revealed that while the 'Teers were watching the 'Eers on TV, Stanley Burrell had started calling Love 'The Mountaineer.' "

"I was watching the [West Virginia] game, and I was like 'Love, you're on the TV!' " Burrell agreed. "Hey, we can ride with it. As long as we win, he can keep the beard."
* The 'Eers, on the other hand, were busy dancing after beating Duke. In the final seconds, three or four guys on the bench stood and freestyled, led by Da'Sean Butler, who was making a rare appearance on the bench.
"We like to dance," Cam Thoroughman said. "I don't know, it's just everybody's crazy on this team."
"We've got plenty of dancers," Butler said. "We're just trying to compete with North Carolina, because Danny Green goes out there and has all type of dances."
"Yeah, I saw it," said Wellington Smith, universally described as the team's best dancer. "Comical. No, it was good. He was just being nice. He was just being Da'Sean. He is a very good dancer though, I'm not going to lie."
But Smith's the best dancer, right?
"That's what the word on the street is," he said.
I asked what he does.
"What don't I do," he said. "That's the question?"
("He shows it off in the clubs," Alex Ruoff explained. "He's very skilled. Downtown Morgantown after hours.")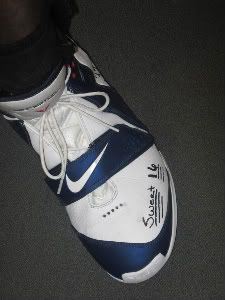 * Speaking of dancing shoes, Xavier's Burrell had written "Sweet 16" on both the sneakers he wore against Purdue.
"I'm done with these," he said after that game. "I've got to get some Elite Eight boots now."
* Boots? Interesting choice of words. The 'Teers, like all basketball players in America, spend their free time playing video games. But their game of choice is somewhat unique.
"Our game is FIFA," freshman forward Joe Hughes said last weekend. "We have battles. Stanley always gets Ronaldinho."
"That's our thing," Burrell confirmed. "Ronaldinho and Kaka and all them. I play with Barcelona because they've got the best player in the game."
Star guard Drew Lavender also plays the game, as do several other teammates. When we talked, Hughes, Manchester United and Wayne Rooney had an eight-game winning streak over Burrell and Ronaldinho.
"Are you for real?" Burrell asked me, when I attempted to ask more questions about his history with soccer-based video games. "Are you about to write an article about this? All your questions all week have been...."
Yeah, I know. Trust me, I'm not proud.

By Dan Steinberg | March 26, 2008; 7:03 PM ET
Categories: College Basketball
Save & Share:
Previous: Mike Wise Hates Your Brackets
Next: Five Guys Confirmed at New Park
Posted by: Bill Fitzgerald | March 26, 2008 8:40 PM | Report abuse
Posted by: sitruc | March 27, 2008 3:35 AM | Report abuse
Posted by: sitruc | March 27, 2008 3:39 AM | Report abuse
Posted by: Charitypongathon.com | March 27, 2008 9:20 AM | Report abuse
Posted by: Kev | March 27, 2008 11:36 AM | Report abuse
The comments to this entry are closed.