Boudreau Takes Shots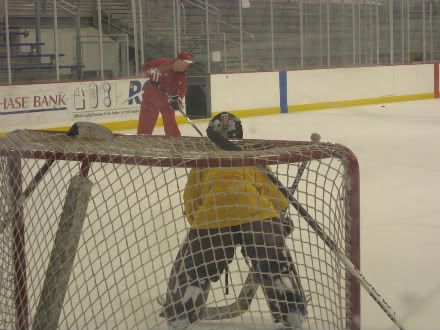 To all you female Caps fans who've been e-mailing me asking for more tales of hilarity from the Caps locker room, today's the best you're gonna get, and none of it is particularly hilarious. Like, here's an example, when Alex Ovechkin was asked about linemate Viktor Kozlov.
"What can I say about Kozie?" Ovechkin replied. "Professor."
Professor?
"He dresses like professor," Ovechkin said. "He know everything. Especially in hockey."
Dresses like professor?
"He looks like a professor, doesn't he?" Coach Bruce Boudreau agreed.
As for the scene pictured above, Boudreau and his son Brady try to hit the ice together at least once a week, with father running son through drills and shooting lots of pucks in his direction.
"That's the most shots I've taken in two months," Bruce said.

"He'll work him hard, but [Brady] can go 'Ohhhhhh daaaad,' and dad will give in," mom Crystal said to a Fox 5 camera. "Mom won't give in. I don't care."
"Way too much airtime," Bruce said, skating by the camera. "Wayyyyyyyyy too much airtime."
"Bruce will say, 'he's trying,' and I'm like, 'he wasn't trying,' " Crystal Boudreau told me. "I'm definitely the harder of the two."
So, she's not a players' coach then?
"No," she agreed. "I was [Brady's] team manager, and I'd walk in the room and do what the coach couldn't: get everyone to shut up and sit down. I would just come in and say, 'Hey,' and that was it. I'd threaten them and they didn't know if I was serious or not. All I had to do was take their name off the list and they don't play. We had great parties, we had lots of fun, but when I wanted them to shut up, they shut up."
(Then the Boudreaus finished their practice session, and the family decamped to the Ballston Commons Food Court, where young Brady ate Chik-fil-A, which will surely lead to a sponsorship deal of some sort.)
By Dan Steinberg | April 2, 2008; 1:03 PM ET
Categories: Caps
Save & Share:
Previous: PETA Wants Nats Naming Rights
Next: Cristobal Huet on Cheese
The comments to this entry are closed.