By the Numbers at Verizon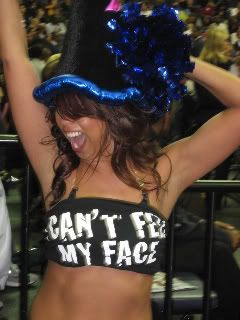 A few numbers to remember from last week's glut of local games.
1988: Last time the Caps and Wizards made the playoffs in the same season.
Twenty-four hours: Amount of time it took the Caps and Wizards to clinch playoff berths at home this weekend.
5-1: Caps and Wizards combined record from Tuesday on last week, including 4-1 at 7th and F.
8,000: Number of Buckhantz/Chenier bobbleheads given away on Friday, including one to a loyal Bog reader who will give it away as the grand prize in a Bog contest, to be revealed tomorrow. Stay tuned.


15,000: Number of Ovechkin bobbleheads distributed on Saturday, including one to a very very very excited young (drunk) fan, whom I met in the line for pizza. He wasn't wearing a Caps shirt.
"I've got to get pizza first," said the fan, who's name I never caught. Then he began pounding his buddy on the chest, screamed a bit and flung his Ovechkin bobblehead into the ground, smashing it. I wanted to take it out back and bury it. Such a waste.
More than 10: Number of Wizards dance team members wearing skimpy "I Can't Feel My Face" tops in honor of DeShawn Stevenson's birthday on Wednesday.
More than 20: Number of hockey players who gave the shirts off their back to fans in a traditional on-ice post-game celebration Saturday night.
I talked to the guy who was wearing Brashear's jersey as he left the ice. He looked like he was in a dream. I asked what the sweaty jersey smelled like. He took a whiff.
"It smells like Donald," he said, dreamily.
Zero: Number of Caps fans who joined the firefighters who drove down 7th street before the game Saturday night, shouting "Let's go Caps" through their little firefighter megaphone thing.
Zero: Number of Caps fans who joined the one drunk guy on my Metro train home who was trying to start an "Ovechkin" chant.
Six: Minimum number of television cameras at today's Caps practice. Trust me, that's a lot more than normal.
At least one: Number of kids here who have asked Lindsay Czarniak for her autograph.
By Dan Steinberg | April 7, 2008; 12:01 PM ET
Categories: Caps , Wizards
Save & Share:
Previous: Caps Fans Are Excited, Weird
Next: Caps Fans vs. Philly Fans
The comments to this entry are closed.