Caps Fans Are Excited, Weird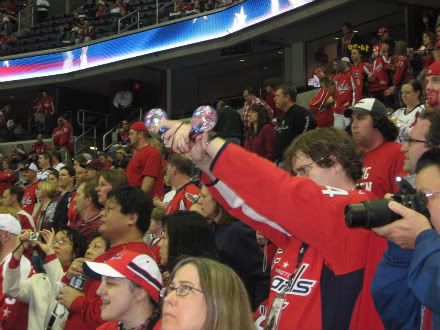 This blog post adapted from this article in Sunday's paper.
Highlights from Saturday's "Rock the Red" party downtown:
* Two woman who admitted to me that they were intentionally wearing red panties.
* Trevor White from Silver Spring, in his traditional garb including a red cloak--"basically it's something you might see a monk wear," he said--and two RAVE lights (sorry) that he flashes at key points. Not the whole game?
"No, the batteries wouldn't last," he said.
Basically everything in Trevor's costume is symbolic, and he also does monthly Tarot readings for the Caps that can be read on his Capital Spirit blog. There's lots of talk of chalices. I asked for a Tarot summary; "I can't shorthand it, you really have to go in there and read the whole thing," he advised. I had been told that he uses the rave lights to do a pre-game blessing over the team, but he said that wasn't so.
"It's not so much of a blessing; it's just my way of saying hi," he told me. "If they want to interpret it that way, that's fine."
* Stephen Smith of Purcellville, who had broken out one of his TWELVE (12) pairs of Zubaz pants in honor of the red out. Plus a red shirt.
"An outfit like this you can really only wear for a Caps game or Christmas," he noted. "I'm one of the few people that's really willing to be seen like this out in public."
He's been wearing Zubaz for 20 years.

* Mark Jenkins, also of Purcellville, who hadn't taken off his new Caps lanyard in about three weeks, except to shower. And, presumably, to sleep.
"No, I sleep with it on," he corrected. "No, seriously."
* Emily Smallwood and Cam Mancini, both 19, of Centreville, wearing matching "Mrs. Ovechkin" and Mrs. Backstrom.
"In a non-stalker, non-creepy way," Emily reminded me. They were with Emily's dad, and I wondered what he thought.
"$120, $130 million? That'd be all right," he said.
* Ten friends of Matt Cooke, down from Ontario and promising to go streaking after the game if Cooke scored.
"They don't shoot first down here, do they?" Gary Sage wanted to know.
And what did they think of Cooke's "cheap shot?"
"It's never a cheap shot when he's your boy, are you kidding me?" Nick Foley said.
"Tell Vincent Lecavalier to keep his head up," Sage agreed.
* A Caps fan named Marissa, wearing a somewhat revealing homemade tanktop with puffy paint spelling out something to the effect of hockey players knowing how to handle their wood.
* A.J. Williams, part of "Gang Green," clad in red, and waiting in line for face painting.
"I want to get a red mustache," he said. "You know, it was international mustache day last Friday."
* Redskins linebacker Rocky McIntosh, in pink.
"It's a little bit off," he said. "I already got one bad compliment to take it off. I'm about to go buy me something really fast."
* Tim Baran, in red mohawk, although the sides weren't shaved.
"We're getting married soon," he said. I said the playoffs might be worth it.
"You're not marrying him," his bride-to-be, Crissy Chenoweth, said.
* Santa Claus. Where'd the costume come from?
"North Pole, where else would I get it?' Mike Gorsuch said. "Mrs. Claus made it for me. Santa needs some relaxation also."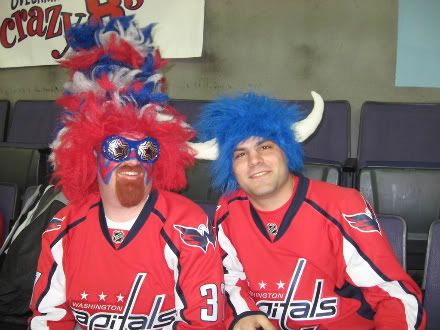 By Dan Steinberg | April 7, 2008; 11:08 AM ET
Categories: Caps
Save & Share:
Previous: DeShawn's Party: The Video
Next: By the Numbers at Verizon
The comments to this entry are closed.