Caps Fans Brave Philly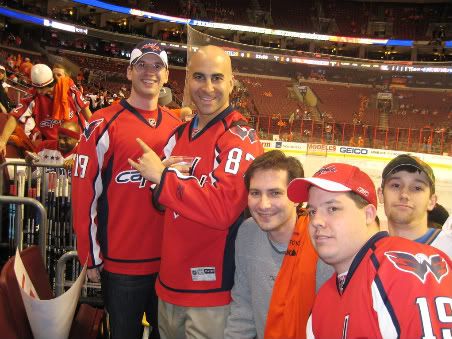 This is what the escalator emptying onto the second level of the Wachovia Center looked like 20 minutes before the puck was dropped: orange, orange, orange, black, pink (with Flyers logo), black, orange, black, orange, orange, orange (repeat, and then repeat again, and again), orange, orange, orange, black, navy blue.
Who was wearing black and navy blue, you ask? Those would be Caps fans Jeff Jones and Brendan Shirley, wearing a Georgetown t-shirt and a Custom Stonescaping sweatshirt bearing a 703 area code, respectively.
"We're trying to represent the area, but we're trying to do it subtly," Jones said.
"If we were with six or seven more guys, that might be a different story, but if it's two against 20,000 the odds aren't in our favor," Shirley said. "I was gonna pull out the Redskins jersey, but that's not as subtle."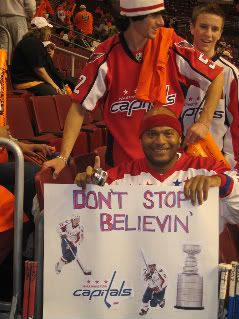 "Yeah, you'd be floating in the river," agreed Jones, who had come to Thursday's Game 3 in Philadelphia with eight Caps fans wearing actual Caps colors. What was that like?
"We weren't even 100 yards from our car before the first A-Bomb and F-Bomb hit," Jones said. "Can you write we were sodomized verbally? That's the way I felt."

And thus, the traveling Caps fans faced a delicate fashion choice yesterday: go loud, go soft, or go silent. Some, such as 80-year-old Nancy Leary, refused to compromise; she wore a vintage Kelly Miller jersey and reported hearing "lots of things, nasty things." Some, such as Jason and Angie Rupinski, made small compromises, with Jason wearing a Caps t-shirt but foregoing his jersey at Angie's request in order to facilitate a possible change of clothes. Some, such as brothers Andrew and Matt Wentzel of Hershey, decided at the last minute to leave their Caps clothing in the car.
"Why am I dressed like this?" said 21-year-old Matt, who was wearing a Duke sweatshirt and showing no obvious signs of Caps fandom. "Because I didn't want to get beer and hot dogs thrown at me."
Of course, the Wentzels fashion choices at least facilitated a pre-game interview; those wearing full Caps gear were bombarded with various chants that made speech impossible, chants such as [Expl-etive!!!], [Ex-pletive!!!] and [Explet-ive!!!].
Want more profanity? Caps fan Tom Lyons had worn a vintage Bondra jersey to Game 3 in Philly; "I had the entire escalator going from the club level to the ground, yelling in unison, [Ex-pletive!!!!]," Lyons said. "I swear, a solid two minutes, until I finally went back into the suite." Lyons chose to wear a gray shirt with an extremely modest Caps logo tonight.
Nancy Rogers, the president of the Caps Fan Club, also came to Game 3 in appropriate attire; "we were called [Ex-pletive!!!] from the moment we got out of our car," she said. Still, she stuck with a Caps jersey tonight.
Fellow Caps fan David Groban went to Game 4 in Philly in Caps colors; "any obscenity you can think of was slung at us," he said. ""I could start a dictionary of obscenities based on what was slung at us on Thursday night." Groban chose a Nicklas Backstrom jersey tonight.
Then there were the three youngish female Caps employees who came to Game 3 wearing their team's colors. Some called them [female-appropriate expletives], while others were more polite.
"They told us, 'you're hot, but your team still sucks,' " reported Elizabeth Wodatch, the team's director of community relations.
By Dan Steinberg | April 21, 2008; 7:56 PM ET
Categories: Caps
Save & Share:
Previous: The Caps Are Excited
Next: Flyers Fans Were Not Happy
Posted by: odessasteps | April 21, 2008 8:45 PM | Report abuse
Posted by: sitruc | April 21, 2008 9:37 PM | Report abuse
Posted by: OrderedChaos | April 22, 2008 9:55 AM | Report abuse
Posted by: Arlington Pimp | April 22, 2008 2:51 PM | Report abuse
Posted by: Jermaine | April 22, 2008 4:04 PM | Report abuse
Posted by: lenny dysktra | April 23, 2008 4:32 AM | Report abuse
The comments to this entry are closed.