Caps Mohawk Talk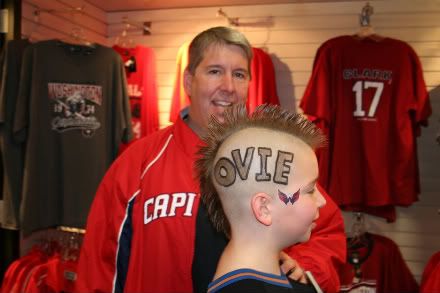 This kid was spied by a Caps employee at Saturday's game. The letters are actually shaved in. And yeah, in the dark one, that's actually Ovechkin's signature on his head. Very nice.
And very appropriate, given Mike Green's history with the 'hawk. I know the Green mohawk talk appeared in multiple places this season, but I'm just gonna quote Mike from the D.C. Sports Bog.
"I'm waiting for playoffs; playoffs it's going to be in full effect," he said in January. "Shaved sides, flaming, might even get the tips going."
This was when the playoffs seemed but a distant dream. Now, not so much. So Green was asked Saturday night where things stood, 'hawk-wise.
"Yeah, I'm gonna go for it," he said. "It's been two years in the playoffs doing it, and it's brought some luck. We're gonna let it rip."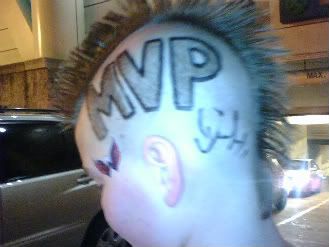 "Not surprised," said goaltending coach Dave Prior. "Mike's pretty much covered all the hairstyles in the time I've known him, in Hershey and up here."
How does the mohawk look on Green? "Aerodynamic," Prior said.

Green said he would try to bring a few teammates along with him in 'hawkness, but I couldn't find any takers.
"I don't know. I've got such good hair, I'm just really scared about messing it up," Matt Bradley said. "I'll probably just go maybe just with the beard."
"I'll tell you, if we get to the Stanley Cup finals, I would VERY seriously consider it, absolutely," Al Koken said.
"I'm going to save my Swedish-style hair," Nicklas Backstrom said.
"No, I don't know, my girlfriend wouldn't let me probably," Tomas Fleischmann said.
"I COULD rock the mohawk, especially now because I just buzzed my hair," Zach Leonsis said.
And will Green, as promised, mix some red dye into the mohawk?
"I don't know," he said. "We'll see."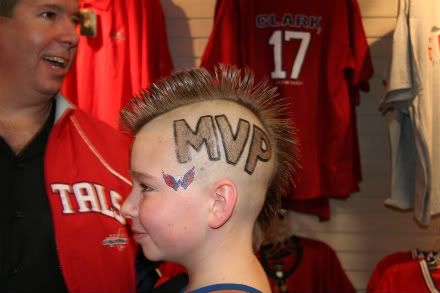 By Dan Steinberg | April 8, 2008; 11:03 AM ET
Categories: Caps
Save & Share:
Previous: Video from the Caps' Clincher
Next: Brendan Haywood is a Bracket God
Posted by: Go Skins Go | April 8, 2008 11:50 AM | Report abuse
Posted by: Anonymous | April 8, 2008 1:03 PM | Report abuse
Posted by: StetSports.com | April 8, 2008 1:41 PM | Report abuse
Posted by: Sombrero Guy | April 8, 2008 4:43 PM | Report abuse
Posted by: Puddin_an_Semin | April 8, 2008 5:33 PM | Report abuse
Posted by: Shellz | April 22, 2008 11:32 PM | Report abuse
The comments to this entry are closed.