Caps Playoff Beard Preview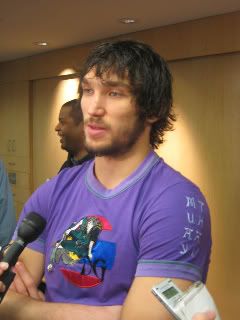 (A video version of this entry will run on Washington Post Live Thursday afternoon, between 5 and 6, on Comcast SportsyNet.)
(Also, by watching the video below, you'll note that I might have agreed to grow a playoff beard. If any of you are doing so and have photos, please do feel free to share.)
This town hasn't known from hockey playoffs for five years. Sure, we've missed out on Games 7 and overtime and sold-out arenas, but of equal importance, we've been denied the unique experience of the playoff beard. Of course, the players in the Caps dressing room have mostly been elsewhere in recent years, and so they've grown beards in Long Island and San Jose and Kitchener and any number of distant cities, including Hershey, where many of these Caps honed their beard-growing skills en route to the 2006 Calder Cup. And thus, they were able to offer a bit of a preview. (League-wide preview here.)
"I think I had the third or fourth best beard on that team," Mike Green said. "[Eric Fehr] is the only guy here that has a better beard."
"His is red though, so it's tough to see," said David Steckel, when asked about Fehr's beard.
"I'll be Rocking the Red," confirmed Fehr, referring to the team's official playoff slogan. "It starts off black and then after a few days it turns red. I don't know why."
"I've seen a lot of these guys before, and I think I've got good growth to be honest with you," Steckel said of his own beard-growing skills, which, in truth, are already on display. The center has been recovering from a broken finger and is thus unable to shave; he got a professional job early last week, and hasn't shaved since.

And he isn't the only one with a head start. Steve Eminger's beard has already arrived; the blue-liner hasn't decided whether to cut it and start over before the playoffs. (His last full-on playoff beard came in juniors, when his youth hampered his efforts, leading to what he described as "kind of a neck beard, Amish-looking.") Alex Ovechkin's weeks of scruff have been well-documented; he said he would carry that growth over into the postseason; "Why I have to care about how I look?" he asked. ("I don't think it can get much worse," pointed out Matt Cooke, who still refers to Ovechkin as the Geico Caveman.)
A few players seemed genuinely excited by the chance to get hairy, like Matt Bradley, who predicted a "very ugly" and "very spotty" beard. His only NHL postseason appearance came six years ago, in San Jose, and he said the results were fit for a 12-year-old.
"It was a lot worse than it is now," he said. "I looked like a rat, I think. It wasn't pretty. But I don't care what it looks like; we're in the playoffs."
Still, tragically, some players were unsure about their beard prospects. Cooke, for example, said he'd wait to see if there was a team-wide consensus before letting his grow. Viktor Kozlov said he'd give it a few days, but "if it will become itchy, I'll shave it. I don't have much patience." Donald Brashear said he usually opts for a playoff goatee or playoff sideburns, because a full playoff beard would make him look "like a monster, like I got out of jail." (Brashear was asked whether he's really allowed to disregard the allure of the full playoff beard. "Yeah, I'm allowed," he said. You wanna argue with him?)
As for young Nicklas Backstrom, several teammates predicted a barren spring.
"Me? I'm starting right now, so I have a couple of hairs," the fresh-faced rookie said hopefully. "I'm not that ag-ed yet, so I don't care."
Even the owner might get in on the act; after consulting with a blogger and his wife Lynn (see video below), Ted Leonsis decided he'd pursue beard expansion.
"I think Ted should go for it if it's a tradition, absolutely," Lynn said. "He's a pretty hairy guy, I can tell you that, but he would look great with a full beard."
Coach Bruce Boudreau's son Brady got his hair dyed blond for the playoffs, but the coach said he had no plans for himself.
"I never had one because mine was spotty, I looked like a dog, so it was awful," he said today. "I've never really understood it, but hey, whatever works for these guys. If we can win, I don't care if we have playoff beards or playoff mustaches or if they shave their heads or some of them get mohawks. Whatever they do."
Finally, credit to Shaone Morrisonn, who was asked what Steckel looks like with his playoff beard.
"Hairy," Morrisonn replied.
By Dan Steinberg | April 8, 2008; 3:03 PM ET
Categories: Caps
Save & Share:
Previous: Brendan Haywood is a Bracket God
Next: Donald Brashear Has a Blog
The comments to this entry are closed.