Cleveland Fans Appear Confident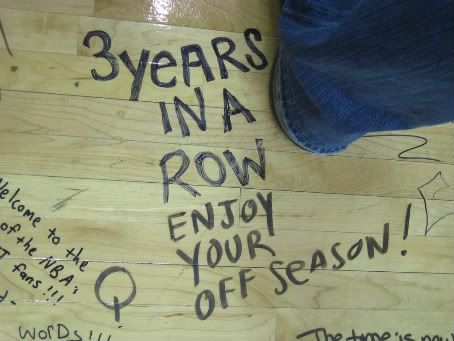 Do I think the Cavs will almost certainly win this series? Of course I do. You'd say that about any team up 3-1 at home, much less a team that has so completely owned its opponent for three postseasons in a row.
Do I think it's 100 percent stone-cold impossible for the Wizards to win the series? Well, maybe 99.4792 percent impossible.
Would it be the most shocking thing in the history of team sports? Nah. In fact, the Cavs appear to be only about five-point home favorites today, approximately the same number Detroit is giving at Philly tomorrow, despite the fact that the Pistons are on the road and the Sixers have thus far put forth a better showing than the Wiz.
If the Wiz somehow won three straight, would this photo be a nice novelty item? Sure, why not. There's a corner of the Q's game floor that bears little inspirational messages, such as this one. Would be a cold way to go, losing on a floor that bears this inspirational message.
By Dan Steinberg | April 30, 2008; 1:49 PM ET
Categories: Wizards
Save & Share:
Previous: DeShawn Appears to be Popular in Cleveland
Next: I Love This Series: the Video
The comments to this entry are closed.