Continuing Wiz Playoff Themes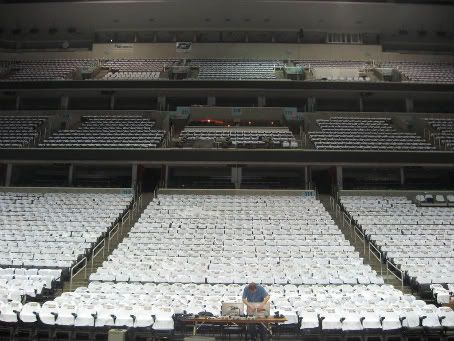 1) Soulja Boy, in the house tonight? "Supposedly," DeShawn Stevenson said. LeBron James told the Cleveland Plain Dealer he's prepared.
"I got my 'Roc Boys' dance ready," James said. "Roc Boys", of course, is a song by Jay-Z.
And did you know Soulja Boy was actually scheduled to perform in Cleveland's House of Blues tonight? Show says it's been canceled. Thanks to the CPD for the tip. (Jeff Green and Larry Hughes also expected to be there tonight. Verizon, not House of Blues.)
2) Hard fouls? This egg's still sizzling. Mike Brown is defending his right to step on the court, also from the Plain Dealer.
"The head coach has the right to come out on the floor," Brown said. "I will go onto the floor anytime I see a skirmish because I don't want any of my players kicked out of the current game or suspended for any future games. It's my job as a head coach to help take care of the business on the floor."
And DeShawn Stevenson was told today that some Cavs say they actually enjoy the contact.
"Obviously they don't, they've been complaining about it," DeShawn said. "We're going to go out there, still play our game, take hard fouls and not try to hurt anybody."
(Epic Carnival has other things DeShawn finds to be overrated, while Truth About It offers a final word on the Haywood incident.)
3) You want a white out? Above, see an arena, outfitted with 20,000 white t-shirts. Each has the slogan "Rewriting the Rules," which is the team's playoff slogan, a slogan that would be a massive kick in the teeth should the rewritten rules turn out to include another first-round loss to Cleveland. But the shirts look great.
4) So our amazing 34-year streak in which the Caps and Wizards have never won home playoff games in the same week will continue. But there's this: Only three cities had NFL, NHL and NBA teams qualify for the playoffs this year. Cleveland and Philadelphia aren't on that list. The cities, each of which also had their MLS teams qualify for the playoffs, include Boston, Dallas and the District, if you can count P.G. County and FedEx Field as part of the District.
By Dan Steinberg | April 24, 2008; 2:37 PM ET
Categories: What You Need to Know
Save & Share:
Previous: Wizards Shaving Heads
Next: RIP to a Redskins Internet Legend
The comments to this entry are closed.