DeShawn, Rubik's Cubes and Slick Rick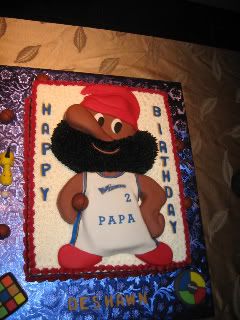 When the apocalypse descended out of that massive high-def scoreboard last night to smite the Wizards, with virtually the entire starting lineup simultaneously writhing on the floor in agony as their lead vanished, I initially worried that DeShawn Stevenson's birthday party that night might be ruined. But as Stevenson made his entrance to Bell Biv Devoe's "Poison," accompanied by members of the Wizards dance team wearing t-shirts bearing the likenesses of Oprah Winfrey, Papa Smurf and the birthday boy, it became clear that neither "Poison's" 1990 release date nor the fact that the Wizards had just suffered an injurious home defeat would stop this '80s-themed birthday party in the Verizon Center's Collaborations Club.
There were '80s amusements, from Rubix Rubik's Cubes to Atari consoles to a full-on Twister set-up. There were '80s treats, from Big League Chew to Pop Rocks to Appleheads to Pixy Stix to Capri Sun pouches to a Papa Smurf birthday cake flanked by a frosted Simon. There were appetizers that work in any decade (pigs in blankets), and DJ's from our youth (Biz Markie), and a special guest performance from Slick Rick. And there was a parade of athletes outfitted in authentic '80s garb, starting with....well, starting with Oleksiy Pecherov.
"Zis one is '80s, jeans, yeah?" he said, pointing at his jean jacket. "I'm 2008, I'm not '80s."
Those who followed Pecherov (and the legions of youngsters in Ramones t-shirts and brightly colored warm-up jackets and sunglasses) embraced the dress code a bit more enthusiastically.
"I was gonna come in my birthday suit, but they told me I had to actually put on clothes," said Gilbert Arenas, wearing a red-and-black number featuring a Gucci coat and Kangol hat and carrying a cell phone the size of a baseball bat.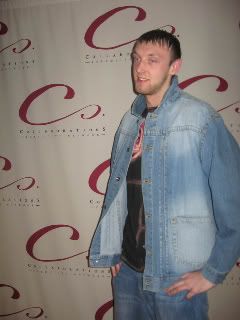 "I had to go throwback with the blue jean Levi suit, and I've got the old school Nikes, the Blazers," Caron Butler said. "I've got the dookie ropes and everything," he said, pointing to his chains.
"It took me all day to find the right jacket, but I finally got it," said Clinton Portis, who was wearing Urban Outfitters. "I wish I had got a jump on finding my outfit, but I didn't. It came together late."
"When we went to the West Coast I knew my little spots for clothes," said Nick Young, whose Michael Jackson get-up with massive afro wig easily earned best-in-show honors. "My mom gave me this [wig]; she had it from a oldddd Halloween, so I'm bringing it back out."
As for Stevenson, he proudly posed with his pink-highlighted boom box--which he apparently bought at the same time Gilbert was picking out his retro cell phone--while discussing his favorite thing about the '80s.
"Loud colors, like yellow, green," was his answer. "See, I got the green socks on," he noted, which was true.
Stevenson said he was "just giving a chance for everybody to come out, have a good time," so it was left to Stevenson's friends from Fresno to elaborate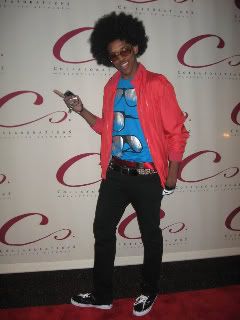 "They said they want to bring the '80s back, so that's ok, because that's where they made me at," said Stevenson's cousin Theo Owens, quoting Jay-Z. "We were born in '80, 80s baby, that's where it is."
"We've been waiting for the party for like two months....For DeShawn to have a party here, it's legendary for us," said his close friend Carl Ross, who said Stevenson's fame was "at an all-time high.
"I mean, he's playing great," Ross continued. "It's not like he's just being a bad kid and doing stupid stuff. He's playing great, and then having stuff like this on top of it? It couldn't be better. We're just happy for him."
By Dan Steinberg | April 3, 2008; 5:43 PM ET
Categories: Wizards
Save & Share:
Previous: Boudreau on the Big Screen
Next: DeShawn's Party: The Video
Posted by: elybaby | April 3, 2008 7:11 PM | Report abuse
Posted by: Elliot S. | April 3, 2008 9:18 PM | Report abuse
Posted by: StetSports.com | April 3, 2008 9:33 PM | Report abuse
Posted by: ummm | April 4, 2008 10:36 AM | Report abuse
Posted by: Chinatown | April 4, 2008 10:46 AM | Report abuse
Posted by: Icantfeelmyface | April 4, 2008 12:00 PM | Report abuse
Posted by: Anonymous | April 4, 2008 3:10 PM | Report abuse
Posted by: La Norteno | April 4, 2008 3:53 PM | Report abuse
Posted by: Anonymous | April 4, 2008 4:29 PM | Report abuse
Posted by: Elliot | April 5, 2008 10:07 AM | Report abuse
The comments to this entry are closed.