Is D.C. Now a Hockey Town?

Matt Cooke wanted into the dressing room this afternoon, looked at the masses of media persons, and smiled.
"Back in a Canadian city, eh?" he said.
Now I've never been in a Canadian city for the playoffs (although I did take my Honeymoon in Canada) and I would have thought that some sort of playoff fever would infect the entire civic apparatus and not just Washington City Paper blogs, but the Caps themselves are certainly going out of their way to talk about the excellence of the home crowd. Like, here's Fedorov, from today, talking about Caps fans:
"They were cheering so hard probably their throats were so sore next day," he said.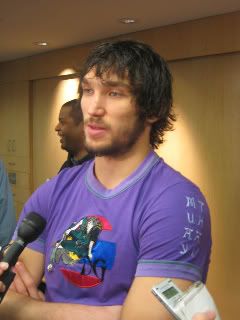 Or Ovechkin, from today, when asked about Saturday's crowd:
"I can say right now: Washington is hockey town," said Ovechkin, wearing purple Dolce & Gabanna and a still-growing pre-playoff beard. "Because everybody, when I go somewhere to eat, everybody: 'Let's go Caps, let's go OV, good job.' It's pretty amazing here. Somebody [used to say] Washington is not hockey town; teams knowing now we have great fans, and you see how they support us every game. Unbelievable."
Kornheiser has expressed the view that Gilbert Arenas would be recognized exponentially more frequently than Ovechkin. Not sure if that's true, but Ovechkin was asked whether he gets recognized every day.

"Not every day," he acknowledged. "When I go out somewhere, like eat food, go restaurant, movie, people recognize me. It's unbelievable how the town has changed, how the fans go to the stands and [cheer] for us. It's unbelievable things."
The same question was posed to Mike Green.
"Lots more," he said. "It's different. Grocery store, out for dinner, at a restaurant, they just say congratulations and they're cheering for us....We NEVER got recognized before, ever, before the start of the year."
Even more obscure players like Eric Fehr said they've noticed a difference in their personal lives.
"People around here are starting to recognize Caps players a lot more in general, yeah," he said. "I ride the Metro once in a while and guys will be like, 'Good job on the win last night.' "
Wait, he rides the Metro once in a while?
"Oh yeah, if I'm going downtown I usually take it, because it's quicker," Fehr said. "I don't like sitting in traffic. I don't mind it actually. I don't like driving to begin with, so if I can just sit there and listen to music or whatever, it's better."
Do hockey players take the public buses in, say, Calgary? Not sure. In any case, this celebrity stuff has its limits, such as when a small group of players emerged from a meeting today and were serenaded with chants for Ovechkin, even though their names were Steve and Shaone and Mike. Or when Bruce Boudreau came out to sign some autographs and introduced himself like this, "How are you guys? I'm Bruce."
By Dan Steinberg | April 7, 2008; 3:38 PM ET
Categories: Caps
Save & Share:
Previous: Caps Fans vs. Philly Fans
Next: Bram Weinstein to ESPN
The comments to this entry are closed.