Local Poll Finale: Georgetown Wins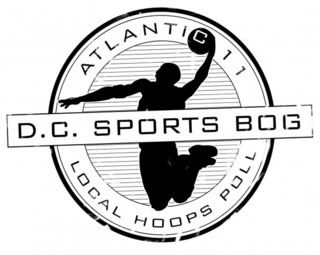 Why are we still talking about local college basketball? How else will we provide next year's preseason Atlantic 11 rankings? And didn't you want to see Mount St. Mary's get its chance at some Atlantic 11 glory?
Here's some trivia: which local schools went further in their post-conference tournaments than their seedings would have suggested? If I'm not mistaken, the only correct answer is Maryland, seeded fifth in its NIT bracket. So congrats to the Terps for exceeding expectations.
More trivia: American becomes, I believe, the first school ever to have received votes for 1st, 10th and every spot in between in a single week. So congrats to the Eagles for confusing the voters.
And Georgetown, of course, becomes the first team ever to go coast-to-coast on top of the Atlantic 11, although this last triumph was not unanimous. But congrats to the Hoyas for making this the most boring poll in regional blog-based pith-fueled basketball poll history.
In poll movements, Mount St. Mary's enters for the first time in the eighth slot, and Coppin State does likewise in 11th. Virginia Tech closes strong in the NIT to finish third, American moves to fifth for its highest-ever ranking, and Morgan State's poor postseason leads to a late-season dip to 10th.
Results and pith after the jump, and thanks to all the voters for another season of joy, controversy and Gary Williams sweat jokes.
1. Georgetown (28-6) 339 (39)
--NCAA first-round winner.
--The Good News: The Hoyas have once again produced another NBA Lottery pick. The Bad News: They produced it when Stephen Curry led Davidson back from a 17-point deficit in the NCAA Tournament. (Max Wass)
2. George Mason (23-11) 266
--NCAA first-round participant.
--Providence wishes they could make this Poll. (Chris Olson)
3. Virginia Tech (21-14) 235
--NIT round-of-16 winner.
--Almost outdrew the Orioles for an NIT game. That's either impressive or quite sad. (Matt Bonesteel)
4. UMBC (24-9) 224
--NCAA first-round participant.
--D.C. area college hoops fans will remember 2008 as the Year of the Retriever. That, or the Year of Really Bad Local College Basketball. (Cole Wilson)
5. American (21-12) 204 (1)
--NCAA first-round participant.
--Washingtonians can now return to loathing all teams nicknamed "Eagles." (Max Wass)
6. VCU (24-8) 172
--NIT first-round participant.
--VCU MIA vs. UAB in NIT. (Matt Bonesteel)
7. Maryland (19-15) 140
--NIT first-round winner.
--Fed up with the criticism that he can't keep local talent in state, Gary Williams vows to recruit Brenda Frese's newborn twins hard this offseason - should he happen to bump into them in Dewey Beach. (Scott Allen)
8. Mount St. Mary's (19-15) 87
--NCAA play-in winner.
--The Mount has one thing in common with Georgetown: the same number of wins in this year's NCAA tournament. (Rob Yunich)
9. Virginia (17-16) 80
--CBI quarterfinal winner.
--They were just one win away from getting to play a best-of-three series with Tulsa! I guess Sean Singletary's senior year was a success after all. (Markus Videnieks)
10. Morgan State (22-11) 46
--NIT first-round participant.
--Hang on to that regular-season MEAC crown, Golden Bears. Hang on to it tightly. (Sean McLernon)
11. Coppin State (16-21) 34
--NCAA play-in loser.
--Had evidently been smoking from the same pipe of dreams as the Georgia Bulldogs. (Michael Palan)
Also receiving votes: Old Dominion 23, William & Mary 18, Navy 6, Richmond 6, George Washington 2, Loyola 2, Hampton 1.
By Dan Steinberg | April 7, 2008; 7:01 PM ET
Categories: College Basketball
Save & Share:
Previous: Bram Weinstein to ESPN
Next: Video from the Caps' Clincher
The comments to this entry are closed.