Malcolm Kelly Freestyles

Had enough rap moguls dissing D.C. sports stars? How about future D.C. sports stars attempting to be rap moguls? Here's new Redskins WR Malcolm Kelly, with his much-discussed freestyling after his Oklahoma Sooners won the 2006 Big 12 championship.
Has Kelly faced some expectations over the years? Check this story from the Oklahoman:
Wild prediction: Kelly will go higher in the 2008 NFL draft than [Adrian] Peterson went in the 2007 draft, though most of the mock drafts don't yet list Kelly, since he'll be just a junior this season. If Kelly turns pro and slips past seventh overall in the draft, some lucky team has a steal.
Does he have an interesting role model for a Redskin? Check this 2006 story from the Tulsa World: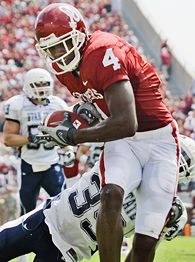 Growing up in Longview, Texas, Dallas Cowboys star Michael Irvin was just about the best thing that a young wide receiver could emulate on the field.

"I used to love Michael Irvin," Kelly said. "I used to love watching him."

He loved being him, too. For Christmas one year, Malcolm got a Michael Irvin uniform, complete with the silver helmet and blue star.

"He used to wear it all the time," his father said.

"I never went outside," Malcolm said, "without my Michael Irvin."

Does he appear quotable? As if you haven't already seen it, here's Kelly after his pro workout this month:


Certain people have tried to hold me down, and they know who they are," Kelly said after the workout. "I wouldn't say the whole OU coaching staff, but certain people, I would say that."
He's also said he was 10 times better as a baseball player than as a football player growing up, before he quit, partially out of fear of a ball traveling 100 mph, and that he would like to make the NFL, partially because "it'd be good to see your mom and dad just sit back and chill and sip a little lemonade every now and then instead of working every day."
By Dan Steinberg | April 28, 2008; 9:35 AM ET
Categories: Redskins
Save & Share:
Previous: Here's Jay Z's DeShawn Song
Next: Why Gil Didn't Throw His Jersey
Posted by: StetSports.com | April 28, 2008 9:49 AM | Report abuse
Posted by: bryc3 | April 28, 2008 10:07 AM | Report abuse
Posted by: Unsilent Majority | April 28, 2008 10:39 AM | Report abuse
Posted by: Ross | April 28, 2008 1:26 PM | Report abuse
The comments to this entry are closed.