Now That's a Playoff Mohawk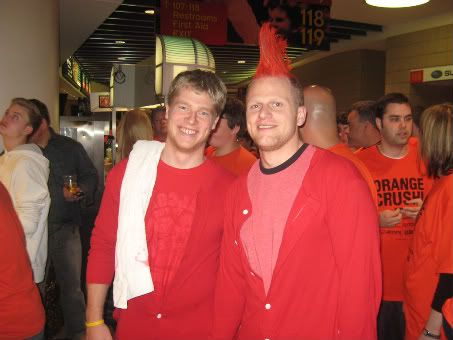 Wandering through the concourse during first intermission. Didn't look all that great for the Caps at the time. Saw a flash of red out of the corner of my eye. 'Twas brothers Richie and Donny Early of Towson, rocking as much red as I've ever seen rocked.
Richie's mohawk-with-shaved-in-initials was particularly impressive. There's a Flyers fan named Super-Fan with an orange mohawk and Flyers-related tattoos on both sides of his head. It's great, but I think I prefer this one for sheer size.
There were, I should note, some feistily happy Caps fans all night. Like 35-year-old Jermaine Taylor (really), wearing the red headband and old-old red-white-and-blue Caps jersey for a player whose first name he didn't even know.
"Hopefully I won't get bombarded with ThunderStix, people hitting me over the head," he said before the game. "I can take a little bit of abuse. I know our arena gives a little bit, so I figure I can take a little."
"I'm gonna get killed," predicted Blaine Bell, as he waved a "Let's Go Caps" sign. Luckily for him, security confiscated the poster before the game even started. They were cracking down on all sorts of pre-game signs.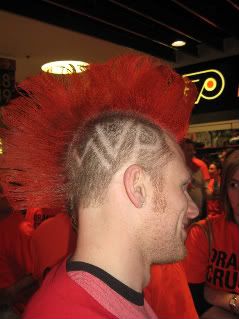 Bell had on a jersey with a blue shirt underneath.
"Just in case we win," he explained. "I don't want to get jumped, man. It could happen. There's definitely a lot of tension."
He told a tale of a childhood trip to Philly for a Caps-Flyers playoff game. "There were a lot of fights on the ice, and let me tell you, there were more in the stands," he said. "I was completely terrified. I was freaked out."
Some Caps fans were taking the free orange "Orange Crush" t-shirts. Why?
"Wipe my mouth, wipe my nose," Tom Lyons said. "What if the bathroom's out of toilet paper?"
"If I don't come out of the bathroom in five minutes, come looking for me," advised Jon Bartlett of Frederick.
"I could never come up here and not wear a Caps jersey or a Caps t-shirt or something,: said Lottie Ignacio of the Caps Fan Club. "I don't care how much verbal abuse I'm gonna get. Now if someone threatened me with a gun I might think twice...."
I stopped 21-year-old Andrew Hayes, who had on a plain red t-shirt and Caps ball cap cup. "Go [bleep] yourself, [bleep bleep]," said a Flyers fan as we chatted. "It really doesn't bother me at all," Hayes said. "It's about class. Washington fans would never do this. I just don't think it's that bad."
"We got to represent," summed up Jeff Katz of Fredericksburg. I asked if he and his friend were worried about finding trouble.
"We don't care, we're bringing trouble here," said the friend, Josh Bozeman, of Burke.
"I've been to Eagles games wearing a Redskins jersey; I got hit in the back of the head with a battery and my friend got hit with a beer can," Katz said. "This isn't nearly as bad. So for now, we're ok."
By Dan Steinberg | April 22, 2008; 11:44 AM ET
Categories: Caps
Save & Share:
Previous: Caps Talk Game 7: The Video
Next: Caps Way-Back Machine: Dale Huntered
Posted by: StetSports.com | April 22, 2008 11:56 AM | Report abuse
Posted by: BucktownSkinsFan | April 22, 2008 12:09 PM | Report abuse
Posted by: Flyers fan | April 22, 2008 3:49 PM | Report abuse
Posted by: Philadelphia freedom | April 22, 2008 3:50 PM | Report abuse
Posted by: spraynard kruger | April 22, 2008 4:50 PM | Report abuse
Posted by: hayezisgay69 | April 26, 2008 1:31 AM | Report abuse
Posted by: phillyallthewaybyaa | April 26, 2008 1:35 AM | Report abuse
Posted by: hayes | April 27, 2008 2:46 AM | Report abuse
Posted by: pville | April 27, 2008 2:49 AM | Report abuse
Posted by: bingalo | April 27, 2008 11:35 AM | Report abuse
The comments to this entry are closed.