Olympic Style Watch

If you've never sat in a room with, I don't know, 400 sports writers and journalists all hoping that Michael Phelps will take a political stand on something or other (he didn't) or tell a hilarious story of his life-building journey with coach Bob Bowman (Bowman once tried to teach Phelps how to drive stick, and they stalled on a hill on the way to school, and now Phelps still can't drive stick) or weigh in on the burning controversy concerning U.S. swimmers in new high-tech two percent faster Speedo suits (he said the suits are available to everyone in the world, including the media, and invited us to try 'em out), well, it's a highly enjoyable experience that cannot possibly be blogged about.
In between the press conferences, the organizers take about 20 athletes from sports you've never heard of lesser-known sports and put them in a room and let all the journos stand behind the one lady who's asking every single athlete about their daily diet, and also listen to the judoka who believes men and women will one day fight each other. Literally.
Which all left me with just three small nuggets about Olympic athletes and their styles.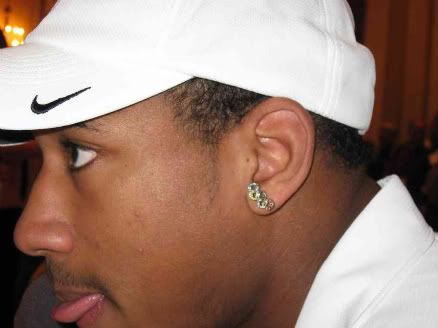 1) Boxer Demetrius Andrade had the best bling. He came to his press availability wearing matching earrings; "USA" on one side and the Olympic rings on the other side. How much? "About two," he said. Yeah, that means two thousand. They're diamond. He had them made right after he made the Olympic team.
Andrade is also quite quotable, as when he's asked about the pollution in China. He's been there before, you see.
"Once in a while, a big hurricane of stink will come," he said. "Other than that, it was nice."
2) Here is the back of fellow U.S. boxer Rau'shee Warren. He has many tattoos, but this is the best. Not much more to add about this, but Warren also has some pretty intense sideburns sprouting on his face, with just a small gap between them and his beard.
"They ain't connected yet," he admitted. "Trying to get my grown-man look."
In other tattoo news, gymnast David Durante has promised that he'll get ink of the Olympic rings on hits arm or his oblique area should he qualify for the Olympic team. A high school friend promised to pay for such a tattoo should Durante ever qualify, "and I'm gonna make him pay up on that offer," the gymnast said. "That's the only tattoo I'd ever get."
3) A lot of very bland, corporate-sponsored clothes adorned America's finest. But pursuit cyclist Taylor Phinney came in these very loud Nike non-cycling shoes, which are adorned with the phrase "Mini Phinney." Long-time nickname. His sister had the sneaks custom-made.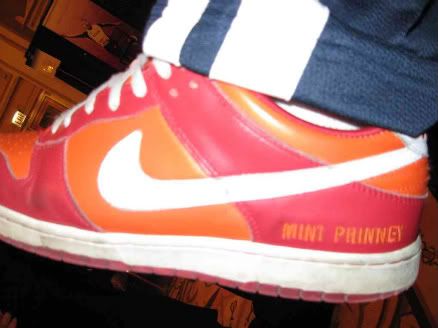 By Dan Steinberg | April 14, 2008; 4:23 PM ET
Categories: Olympics
Save & Share:
Previous: DeShawn Is: Accessory Man
Next: The Fans Were Phenomenal
Posted by: qualude conduct | April 14, 2008 4:42 PM | Report abuse
Posted by: Anonymous | April 14, 2008 4:51 PM | Report abuse
The comments to this entry are closed.