These Caps Are Loose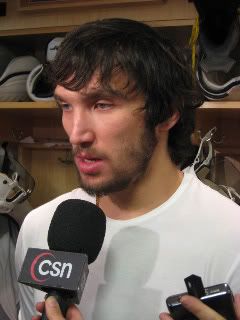 So the night after scoring his 63rd goal in front of the craziest hockey crowd D.C. has seen since Alex Ovechkin was in high school, the MVP did his off-day interviews today looking a bit, well, unkempt I guess. Unshaven. Unfrozen. Unsomething.
"We win, I don't want to change anything," he said. "I don't change my pants, either."
If you ask other Caps about similar superstitions, they'll mostly say, "Yeah, I've got 'em, and no, I'm not telling you about 'em, because that would ruin the superstition." But if you ask them about Ovechkin's facial hair....
"He looks like a caveman," Matt Cooke said. "I bug him about the Geico commercial all the time, just joking around. He doesn't like it very much."
Then, unprompted, Cooke continued.

"That's the biggest thing in the change from Vancouver to here is the amount of fun that the guys have together as a group," he said. "And that can't be overstated. I mean, you're out here having fun with guys and bonding and getting to know each other."
At the time, a group of players was on the ice, playing a game called "Juice Boy," in which players aim shots at small triangular targets in the upper corners of the net, with the loser being forced to get little cups filled with Gatorade and ice for everyone else after the game is done. The players on the ice were howling with laughter while Cooke talked. I asked him if that's what he meant.
"Like this, or just in the room, getting together, shooting the [breeze], just hanging out," he said. "Just getting to know each other on a different level. Especially right now, it's a tough time, games are emotional and they're draining, but when you can come to the rink and still get away from it a little bit, that's helpful."
I trust him--although they often do well to always keep such fun carefully secluded from any outsiders--but others in the room were saying much the same.
"It's awesome," Brooks Laich said. "It's the most fun stretch of games that I think I've had since I've been in D.C. You look at the building last night, the atmosphere, the excitement that was created, it was such an emotional hockey game and from now on it's only going to get bigger. We got a huge win last night, but tomorrow's game gets even bigger. We need to win tomorrow, and then after that Saturday's the same deal, and hopefully then the playoffs. We have a great thing going right here, guys are having a blast. You look around and you see smiles on the faces. Guys are having a great time."
So there's fun in the world. But getting back to the superstitions, at least the owner has one he's willing to share. Here's Ted Leonsis:
"It's interesting. I have a lot of watches, and I pick my watches by what I'm wearing, but for Caps games I pick the watches with the best records. And so yesterday I had to pull out the lucky silver Rolex. You can't control anything as an owner, and so whatever lever I can pull, as crazy as it might be, if it's the mojo of who's sitting where, if it's the watches that I choose, that's what I try."
Wait, he keeps track of the records of his watches?
"Well, I have two watches that are undefeated...so one was broken out last night," he said. "You can't wear them too much, you've got to use them very judiciously here. And so now I wore the red jersey last night because it was a Red Out, so now I'm thinking do I wear the jersey from now on? So I guess for the rest of the season I have to wear the jersey until we lose.
But I have two watches that are undefeated....So I'll wear the one that's undefeated these two nights, and then I'm saving the gold one for the playoffs. One's a Rolex, the other one is Breitling Liljenquist & Beckstead."
And how many watches does Leonsis have?
"About 70," he said. "I had a watch that my wife had given me that I loved and I wore it to the game that we lost in triple overtime in the playoffs. And I remember when I came home, I was jumping in the shower and I took the watch off and said, 'You're not going to see the light of day for a long time.' "
By Dan Steinberg | April 2, 2008; 4:51 PM ET
Categories: Caps
Save & Share:
Previous: Larranaga Stays
Next: The Caps and Scoreboard Watching
Posted by: frank | April 2, 2008 5:11 PM | Report abuse
Posted by: sitruc | April 3, 2008 12:03 AM | Report abuse
Posted by: Bob T | April 3, 2008 9:28 AM | Report abuse
The comments to this entry are closed.