Tough Juice Gets Tuff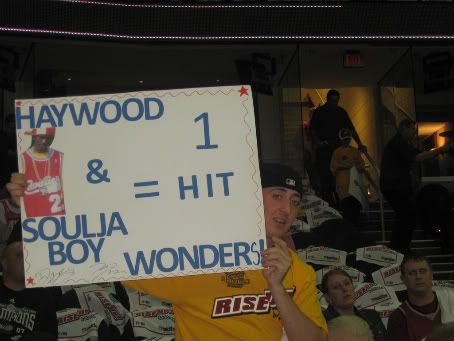 As an impartial journalist blogger, I don't root for teams. But I don't think there's a rule against rooting for inanimate objects like a playoff series, and dang was I rooting for this most-ridiculous-of-all-time first-round series to continue. So when I saw some frowny faces at Tuesday's practice--Oleksiy Pecherov "no-commenting" me, Butler looking like someone stole his applesauce--I briefly considered not coming to Cleveland.
In fact--and this is a true story--I told Butler he had seemed morose lately and asked Butler whether I should bother going to Ohio.
"Yeah," he said. "You should go. I'll give you something to laugh about."
Was that a guarantee? Maybe not a guarantee, exactly, but I figured I'd trust him, and I flew to Cleveland.
Was the game a laff riot? Not exactly. The signs were everywhere in the Q. "Cavs 3, Thugs 1," for example. Or the one that went something like: "Game 2: Ejection. Game 4: $25,000 Fine. Ending the Wizards Season Again: Priceless." Fans were offering advice to Stevenson on how to pay his fine. Or waving "DeShawn DeSucks" posters, or elaborate "DeShawn the Menace" cartoons.
The fans sitting behind us were heckling the media members about how "our" players a bunch of no-class brutes.This post-game e-mail from some guy named Richard sums up what many of the fans inside the building were saying: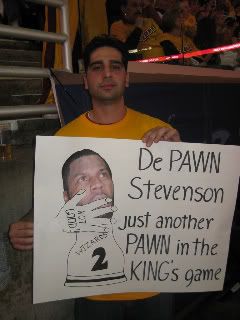 LeBron fouled twice on the way to the basket, now the NBA gets another game and more revenue...forget the integrity of the game...they have validated thug basketball. Don't care about the human interest story of winning one for the old sick owner...he has a no class team. Regardless of this series outcome, your team reflects your city...classless.
So after I had left the arena's bowl because I didn't want to see another last-second loss; after I wandered back in, embarrassed, with 11 seconds left; after Caron Butler hit that game-winning shot and then got in LeBron's ear before The King missed; after a brief but wild celebration and before Butler went in for his press conference, I asked him about his team's newly thuggish perception.
"Don't judge this team from comments," he said. "LeBron made a statement saying 'These guys are talkers,' but unless you hear something from the captains--which would be myself and Antawn--don't label that as the team. You know what I'm saying? I'm the voice of this team, 'Twan is the spiritual and emotional leader, and unless you hear it from us, just keep it moving."
So that settles that. Gilbert (understandably) bows out, Caron takes (and makes) the game-winning shot, and then he says he's the voice of the team.
Oh, and when he got in LeBron's ear?
"I just told him 'Make the season interesting, let's take it back to D.C.," Caron told us. "And he started laughing. You know, I had to get him back for what he did to Gilbert a couple years ago at the foul line."
Were there post-game laughs? Was Mike Wise singing an "It's Hard Out Here For a Pimp" duet with Brendan Haywood? Is this the Wizards? Yes, yes and yes.
"Hey don't eat the food!" Gilbert was yelling at his teammates in a giddy post-game locker room. "Don't eat that food over there playa. Don't eat that food. They've got chicken wings. You know they don't like us over here, don't eat that food!"
And Pecherov?
"It work," he said of his no-comment. "I not talking any more."
And Caron? Are those two tracks shaved into his left temple?
"I did that the other day," he said. "That's one for every $25 million I made in my life."
The few people around him started chuckling as he walked away. Then he turned back.
"I told you I'd give you something to laugh about," Butler said.
By Dan Steinberg | April 30, 2008; 10:51 PM ET
Categories: Wizards
Save & Share:
Previous: Gilbert Shuts It Down
Next: DeShawn: Still Popular
The comments to this entry are closed.