Why Gil Didn't Throw His Jersey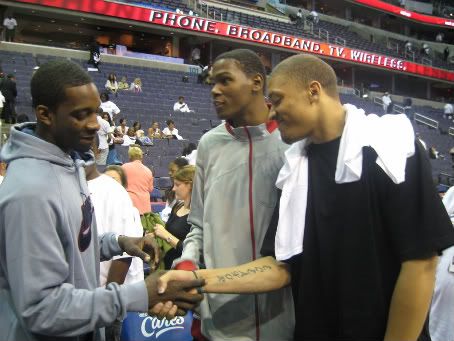 Brief rays of light on a gloomy morning....
* Gilbert did his post-game interviews in the locker room while wearing his Wiz jersey. A jersey that, in normal circumstances, would be in the grubby mitts of some happy kid in the crowd. This was highly unusual. What happened?
"You know what, I didn't realize that until I set down here, until I sat here and looked and said, 'Oh [drat] I've got my jersey on,' " Gilbert said. "I was distracted by that last-second [Delonte West] shot. You know, I did the gameplan. We decided we were gonna load up on the elbows, and I was at the elbow and the second-tier man wasn't there so I had to go in there, but at the end of the day it's still my man. And I was so flustered by that, that...."
That he forgot to throw his jersey, apparently. So what happens to the jersey now? "[Bleep]," Gilbert said, then looked around the room. "Hey Adam," he said, throwing his jersey to some ballboy kid. "YEAHHHHH!" Adam said.
Previously, Gilbert had attempted to describe what was supposed to happen during the defensive rotation on that West shot. "The game plan was...," he said.
"Don't do it," Antonio Daniels said.

Gilbert tried again, and again A.D. interrupted: "Don't say what we were supposed to do," Daniels said.
"Ok, nevermind," Gilbert said.
Other than that, the fun came only before tip. Like when Gilbert came out of the training room and slapped Nick Young in the face. Young made like he was gonna throw a basketball at Gil's head, but he stopped himself.
"You gonna let him slap you like a little [girl]?" Dominic McGuire asked.
"Stop trying to instigate," Young said.
Then Caron Butler entered, only to see Oleksiy Pecherov sitting in his chair. "Don't sit in my seat," Butler said. "Get over there." He wasn't smiling.
The rookies were watching tape of Game 3; soon came the moment when Pecherov attempted to drive and score from half court. They rewound it three times.
"He tried to hit 'em with an in-and-out!" Young said between guffaws.
"Hesitation or something," McGuire said.
"That was smooth," Pecherov argued.
Stevenson, meantime, was drinking a bright-green energy beverage.
"It makes you stay up allllll night," he said. "You can't go to sleep. It's addictive. I drink it to keep myself energized. Tastes good, too."
Players apparently have nicknamed the drink after an illicit drug, but maybe I won't go there.
I will note that as players were walking off the court, heads down, Antonio Daniels immediately motored out onto the floor to shake hands and offer words of encouragement. He was the only person in white I saw trying to find the positive, and that included the thousands of fans walking out, heads also down.
"We gave a good effort," Daniels said. "We had nothing to be ashamed of. You don't put your head down. We just have to go into Cleveland and win a game. As disappointing as this is, you don't sulk on this game right here, because the important thing now is Game 5. We have to take care of business. And walking off this floor, the important thing is that guys feel good about themselves, they feel good about us as a team, and our chances going into Cleveland."
Lastly, here's Gilbert, on why he wasn't shooting in the first quarter: "I mean, this is not my team," he said. "This is Caron and Antawn's team, and A.D.'s team. They held this boat together for the last four, five months. What is my [place] to come out here and take 24 shots? They've been moving by their boat, so I've got to get those guys the ball. If I see an open shot, I'm gonna take it, if I don't, I'm not gonna force anything."
By Dan Steinberg | April 28, 2008; 10:33 AM ET
Categories: Wizards
Save & Share:
Previous: Malcolm Kelly Freestyles
Next: D.C. United is the New Wiz
Posted by: Anonymous | April 28, 2008 11:04 AM | Report abuse
Posted by: Josh | April 28, 2008 11:17 AM | Report abuse
Posted by: Mike | April 28, 2008 11:21 AM | Report abuse
Posted by: Anonymous | April 28, 2008 11:52 AM | Report abuse
Posted by: G20 Fdacowboys | April 28, 2008 6:16 PM | Report abuse
The comments to this entry are closed.