Wiz are Now Climbing the Mountain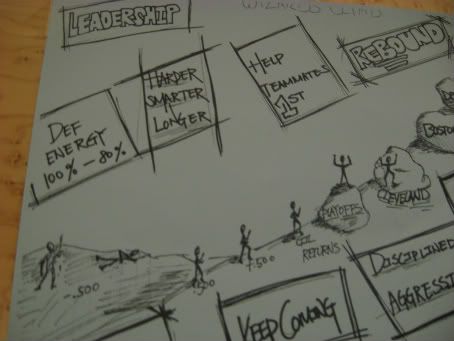 Down three games to one? Heading back to Cleveland? To face a team that's ended your season two years in a row? In a building where you just lost by 30? That's, you might say, is a tough mountain to climb.
Don't like the metaphor? Too bad, because it's already the one that's hanging from above DeShawn Stevenson's locker. The blue sheet of paper, roughly 8 and a half by 11, depicts the Wizards season in pictorial form:
A young man, signified by a few artful streaks of black, begins the season on solid ground. (Some observers briefly thought the young man was actually traversing the sea; "that has to be shore, he can't be walking on water," Stevenson pointed out before Game 4.)
As the season progresses, the man goes horizontal, confronted by the metaphorical ocean of a sub-.500 start. "Then we're swimming, we didn't drown," Stevenson narrated. "Then we made it to shore and we're climbing the mountain."
Indeed, the mountain approaches, the man reaches solid ground and the climb begins: to .500, and then above .500. Gilbert Arenas returns, bringing with him the vertical lift of a high-level sherpa. The playoff summit is gained, and the next upslope approaches: Cleveland, a steep and burdensome rock filled with two years of granite memories and a side made more treacherous by mossy memories. That, more or less, is what awaits this team on Wednesday.
The picture--titled "Wizards Walk"--was handed out to the team by Coach Eddie Jordan before this series began, although only Stevenson hung the picture in his personal space. The work is unsigned, leading to speculation that Jordan was the artist; "I don't know who drew this," Stevenson said. "Coach didn't. It's too good....If he did, he's got talent."

Indeed, he did not; the drawing was authored by Eugene Park, an assistant in the team's basketball operations department. But Jordan was the creative force; "I've done that before in the past with another team so I sort of created that again for us," he said before Game 4. "Sometimes guys gravitate to it, and I think our guys sort of see it and gravitate to it. So it's just a picture of climbing the mountain, trying to get to the NBA Championship."
Jordan's first experiment with artistic motivation came with the 2003 New Jersey Nets, whose push to the NBA finals was reflected in a "Nets Steps" drawing, with each round of the playoffs signified by another platform, that the team checked off.
"When we won the Eastern Conference championship, after we got the trophy raised up, the players on the Nets were saying 'One more check, one more check,'" Jordan said. "And people thought it was money, get another pay day."
The reaction to "Wizard Walk" in the locker room? Well, Stevenson said it "shows the faith," and Arenas said "I thought it was great." He paused. "A little second gradeish, but great."
So does this team have any motivational tricks left?
"You know, the motivation is we're down 3-1," Arenas said. "That's our motivation. We're going into the tiger's den."
Tiger's den? Someone better draw another picture.
[I know, you want gnashing of teeth and pictures of depression, but bear in mind that most of this patter came from before the game. After the game, not too many ha-ha moments.]
By Dan Steinberg | April 27, 2008; 6:20 PM ET
Categories: Wizards
Save & Share:
Previous: LeBron-DeShawn: Pre-Game IV
Next: Here's Jay Z's DeShawn Song
Posted by: sitruc | April 27, 2008 11:55 PM | Report abuse
The comments to this entry are closed.