Wiz Contest: Win Bobbleheads, Tickets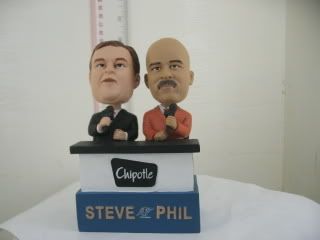 This woman Nancy, who sometimes reads this Bog and has already been inducted into the Bog Hall of Fame, is just incredibly generous with her Wiz swag. Remember last year, she gave away all kinds of tickets to whomever came up with the best 50-word potential speech to Gilbert. Several regular readers can verify that these tickets were actually delivered, and that Nancy turned out to be very sweet and in no way a mass murderer despite her proposal for night-time ticket drop-offs at dark Metro stations.
Anyhow, this week, she comes through again, with Nancy's Nickname-Based Bobblehead and Ticket Giveaway. She writes:
Time for another contest, huh? Well, I've been carefully squirreling away treats and I'm ready to go. First, second, and third places consisting of:

The Buck/Chenier bobblehead (which has them sitting in the wrong place, and doesn't look at all like them).

The ever-popular Washington Wizards wig!

Two tickets to the Indiana Pacers game.
Incredibly generous, right? And is the wig actually ranked ahead of the tickets? Anyhow, the contest:

I (Nancy) think Dominic McGuire is just amazing. Such potential! He jumps up so fast sometimes it's as if he knows which way the ball is bouncing off the rim before the ball does.

I think Roger Mason, long rumored to have one of the best 3-point shots in practice, has this year brought accuracy to his on-court short. He's upped his defensive game too.

Mason and McGuire might have nicknames, but none that WE THE FANS have given them. Not real nicknames. It's time!!

So, propose a nickname for Mason or McGuire (your choice), one that is appropriate for the promising skills they're showing on the court. I'm not partial to mean-spirited or dirty names, so if entrants are thinking about winning, best to keep it clean. But fun and humor are totally going to win points with the judge.

As always, judging will be done solely by me, at my sole discretion, with intense indiosyncratic and seemingly random judgment. No whining about my selection. Just deal with loss the way I do as a Wizards fan: blame the ref, and then console yourself that the poor NBA ref is just a man on a budget trying to make a spread to feed his family. Heh heh.
Post your suggestions in the comments. Limit 93 entries per person. All suggestions are due by noon on this Friday. We'll figure out who's who when Nancy picks the winners. If you're too much in the throes of Caps and/or Nats fever to think about Wiz reserves, feel free also to propose nicknames for Jesus Colome and/or Eric Fehr. "Fehrsie," I have to say, is not the world's greatest nickname. And many thanks to Nancy for the prizes.
By Dan Steinberg | April 9, 2008; 10:58 AM ET
Categories: Wizards
Save & Share:
Previous: Thrash-Death-Metal and the Caps
Next: League-Wide Red Rocking
The comments to this entry are closed.