Wizards Hold Their Form
This afternoon, Antawn Jamison addressed the flowery ornamental treats that have made this series more icing than cake. He sounded let down rather than angry. It was like your boss coming over to check on a deadline project and finding you busy creating lolcats. Even I felt guilty.
"All this talking through the media about this or that is really beneath me, and I'm kind of disappointed that my teammates kind of bought into it," Jamison said. "We've got to do more of letting our game do the talking. I've been saying that from day one. So nothing has changed in my corner. They know what to expect out of me when I come in that locker room. So nothing has changed at all."
In fact, he was largely correct: nothing has changed at all with the Wizards over the past month. Jamison is still dad, the voice of wisdom who knows the difference between wrong and right but manages to tolerate missteps from his rambunctious kids. "We are who we are," he said later. "If we got tight right now and took everything too serious, we'd come out tight. We'd be thinking too much."
Caron Butler is still Uncle Tough Juice, quick with a quip at times, more stern than the commissioner at others.
"Got to be serious sometimes," he said today after no commenting his way through the extracurriculars. "When everyone else is all jittery, got to take care of business." He wasn't smiling.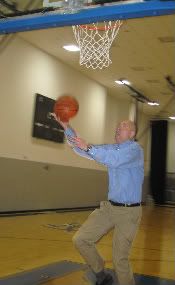 And Gilbert is still the hell-raising cousin who drops by for a few hours, breaks all the rules, makes everyone smile, gets the dog stuck on the roof and then scampers off to his treehouse.
Exhibit A: the media were ushered into practice today, only to be greeted by the sound of laughter and the sight of Gilbert attempting to punt a basketball into some upper level of the arena, trying to settle an argument. (The ball nearly reached the top of the 100 level porch but bounced back.)
By the time the full media contingent arrived, the fun was mostly tamped down. Despite much discussion about the physics and probability of success, Gil never punted the ball again. And there was no jovial post-punting banter for the media's benefit; "it's no comment," Oleksiy Pecherov offered. You know it's playoff time when Oleksiy Pecherov is no-commenting.
Still, this was classic Wizards, with Gilbert refusing to compromise, refusing to believe that a 3-1 series deficit must be treated with the grimness of the spike in worldwide grain prices.
"I'd be worried if he WAS like that, because that's not us," Etan Thomas said. "That's not the way Gilbert is. If he wasn't happy and playful you'd be worried, you'd be like, 'something's wrong.' That's not him."
"I have confidence; they have swag," Coach Eddie Jordan joked when discussing his team's mindset. "That's a whole lot different from my confidence."
Cue Cleveland fans: "You can keep your swag Cleveland owns the Wizards and maybe you can cover competitive basketball punting when the Wiz are home AGAIN for the second round we'll send you tickets lol King James Rules!!!1!!1!."
And maybe they're right. Maybe this series would have been different without Soulja Boy. Maybe the world would be a better place without post-practice punting contests, or without Wiz-themed diss tracks, or without Nick Young appearing at practice today with a new haircut, a haircut not often seen in the NBA.
"It's Gumby," Young said. "Gil gave it to me."
Of course he did.
By Dan Steinberg | April 29, 2008; 2:59 PM ET
Categories: Wizards
Save & Share:
Previous: Colt Brennan Costs Himself Seven Figures
Next: Georgetown vs. Maryland?
The comments to this entry are closed.