DeShawn: Still Popular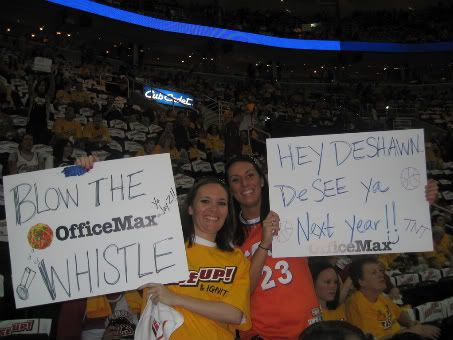 So, the Vick jersey and its deep meaning? "Uh, actually, nothing, I just put it on," DeShawn Stevenson said yesterday, and I actually believed him. "Michael Vick is--WAS--my favorite football player. I had his jersey, I felt like wearing a jersey, so I put that one on."
(Of course, this requires one to believe that in the past two weeks, DeShawn has "accidentally" worn both a Jay-Z t-shirt AND a Mike Vick jersey, but I wouldn't put it past him.)
Later, he expressed surprise that everyone was asking about that jersey. So, um, he wasn't playfully teasing out his public enemy image in some ultimate symbolic act of defiance?
"No," he said, laughing. "I'm not worried about that. If I did I would have had on a Soulja Boy jersey instead."
Gotcha. So maybe I was wrong about the heel strategy. But the Cleveland fans were buying it anyhow.
"[Bad-word]," one fan shouted after DeShawn's first basket and non-face-feel of the game. "Overrated!" screamed another, who then thought better of it. "Never-rated!" she amended. During one trip to the free-throw line, he was serenaded with the standard "[Bad-Word, Bad-Word]" chant.
But perhaps nothing better proved Stevenson's current standing in this city than a trip he took with four teammates to the Tower City Center, a downtown mall, on Tuesday night. The quintet--Stevenson, Arenas, Nick Young, Dominic McGuire and Andray Blatche--received plenty of team-related comments about the series, mostly along the lines of "you're going to lose." But the primary target all evening was Stevenson.

"Definitely," Dominic McGuire said.
"Of course," Andray Blatche agreed.
"There was no question," McGuire said. "Damn near everybody we walked by said something to him."
"I had five people trying to fight me," Stevenson said. "If I went to the mall by myself, I probably would have gotten jumped."
It's a claim, we must say, that seems somewhat overblown, if not overrated, but still, he clearly attracted more than his fair share of attention. What did the Clevelanders say?
"What didn't they say," Stevenson said.
"Did you hear the Jay-Z diss?" Gilbert Arenas offered as one example of an anti-Stevenson taunt. "You suck," he said, coming up with another. "You know, fan stuff."
The highlight, Stevenson's teammates said, came when they walked past a hat store and were spotted by an employee.
"I know somewhere y'all haven't been," the friendly Midwesterner said.
"We were like, 'where?' "Arenas related.
"The second round," came the answer.
Which, considering the enmity displayed toward Stevenson by the home crowd last night, didn't really seem too bad.
"I guess," Arenas said. "I was trying to see 'Harold and Kumar,' that's what I was trying to do."
"Nick and Gilbert went on a date together," McGuire explained.
Yup, 24 hours before they were playing for their season, and one night before he announced he was ending his own campaign, Arenas and Young went to the mall to catch "Harold & Kumar Escape From Guantanamo Bay."
"It was good," was Gilbert's review.
As for Stevenson, he said he had no regrets about his image in Cuyahoga County.
"It doesn't bother me," he said. "It bothers everybody else. I'm just going out there and playing ball. It's all on the court now."
Which, oddly, wasn't that much different from what doer-not-sayer Antawn Jamison was saying. And I still believe that three more or three fewer anti-Cavs soundbites wouldn't have changed the bounce on LeBron's last shot.
By Dan Steinberg | May 1, 2008; 10:10 AM ET
Categories: Wizards
Save & Share:
Previous: Tough Juice Gets Tuff
Next: Wiz Win: The Video
The comments to this entry are closed.