Erasmus James and the Galactic Zapp Machine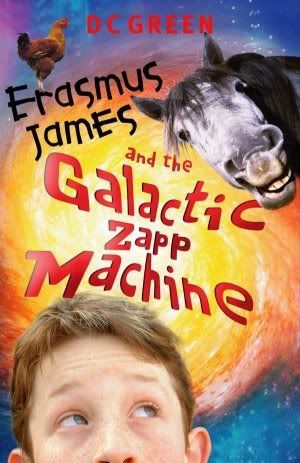 Key facts about new Redskins defensive lineman Erasmus James, rushed into print to guard against these facts being rendered useless by James becoming an ex-new Redskins defensive lineman....
1) In college, at least, he owned an eight-foot long boa named "Cujo." According to the Capital Times, when he was losing to his teammates in Madden, he would bring out Cujo, his teammates would run away, and he would triumph. I believe that's what Daniel Snyder does when he's playing Baccarat against Mark Shapiro.
2) His father, Erasmus Williams, is the longtime press secretary for the prime minister of St. Kitts, leading to this excellent 2004 sentence issued from the Office of the Prime Minister: "BASSETERRE, ST. KITTS, NOVEMBER 9TH 2004 (CUOPM) - St. Kitts and Nevis Prime Minister Dr. the Hon. Denzil L. Douglas has congratulated Kittitian-born Erasmus James for his achievements in the Big Ten College Football Conference now underway in the United States." I'm pretty sure Dr. the Hon. Denzil L. Douglas is in line for an ESPN.com writing job.

3) Also according to the Capital Times, James once ate three steaks and three slices of cheesecake at an awards dinner.
4) Quoted verbatim from an even earlier Capital Times story about James: "Favorite Local Dishes: Goatwater, a soup of stewed mutton or goat; and souce, another piquant stew made of assorted parts of the pig."
5) He wants to be an FBI agent when he grows up. Or maybe Secret Service. Or maybe a big-city cop, chasing down criminals.
"I can't wait to catch them and get them on the ground like I was sacking them," James once told the Appleton Post-Crescent. "And they don't have helmets or shoulder pads or any of that safety equipment stuff, so that's even better.
6) James once knocked former Penn State QB Michael Robinson unconscious. Robinson's mother reacted by telling reporters she was "dying for someone to hurt" James. The Eraser re-reacted by telling Sports Illustrated "That was uncalled for....What she should wish for is a better offensive tackle to protect her son."
7) Most bizarrely, the name "Erasmus James" is also featured in the title of a children's comic written by DC Green, a middle-aged Australian man described as "the world's best surf journalist" who detoured from surf journalism (and writing adult graphic comic novels) to begin writing kids books, most famously with "Erasmus James and the Galactic Zapp Machine," described as "the self-contained first book of a three-part frightfully funny fantasy series for 7-107 year olds and brilliant chimpanzees" featuring "a cunning boy genius named Raz, a talking horse with a flatulence problem, bus-sized mutant chooks and the threat of intergalactic war."
How this relates to defensive ends, I have no idea. But could the use of "Erasmus James" really be a coincidence?
In conclusion, anytime the Redskins trade for a player that allows me to use the phrases "piquant stew made of assorted parts of the pig" and "a talking horse with a flatulence problem," I basically approve.

By Dan Steinberg | May 28, 2008; 12:39 PM ET
Categories: Redskins
Save & Share:
Previous: D.C. Sports Media Approval Ratings: Chick Hernandez
Next: Wizards Golfing: The Video
Posted by: Chris | May 28, 2008 1:17 PM | Report abuse
Posted by: Unsilent Majority | May 28, 2008 4:55 PM | Report abuse
Posted by: Lindemann | May 28, 2008 8:39 PM | Report abuse
The comments to this entry are closed.