On Pizzas and Crybabies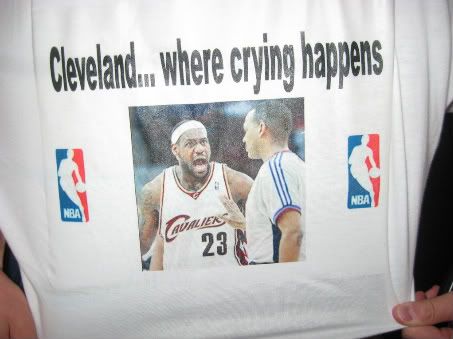 Lingering Wizardly depression and major Blog Show responsibilities prevented me from working yesterday, thus depriving me of a golden chance to make fun of Clevelanders.
(Watch Blog Show, today between 5 and 6 on Comcast SportsNet's Washington Post Live, featuring a guest appearance from important blogger Chris Cooley. Yeah, unlike Costas Now, we choose blogging guests who actually have blogs.)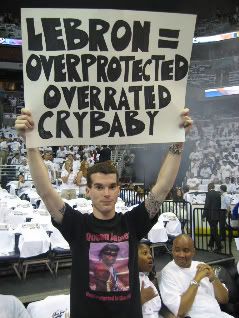 In the ensuing 24 hours, the "D.C. made cry baby t-shirts so we're gonna act like cry babies!!!!" story line seems to have run its course, meaning the responsible course of action would be a dose of maturity, a wry smile and a decision to move beyond this tired D.C.-vs.-Cleveland story line and skip right over the pizza tales.
Ha! So anyhow, here's what we know: in one of our cities, the mere sight of a t-shirt poking fun at a King is enough to cause histrionics, including but not limited to "Boycott This Pizza Chain" Web sites, Facebook groups, formal apologies, 23-cent pizza deals, round-the-clock news coverage, and an outraged local TV segment featuring outraged local citizens (see below). In the other city, sports fans get over their tough losses by eating gourmet food and watching the wives of professional basketball players walk around while covered in chocolate. Obviously, I've made my choice.

(But seriously, why don't we get 23-cent pizzas? Because Cleveland cried louder? This would appear to be obvious pro-Cleveland bias. I'm calling for a boycott. In fact, I'm calling for Wizards fans to take over the Cleveland-based Papa John's boycott site, since Clevelanders no longer have a need for it. I just signed up.)
(Can I also point out that, when the AP story on this serious incident reports that this all dates to Brendan Haywood calling LeBron a crybaby, the AP is perhaps right in tone if not specifics. Haywood never actually used the phrase "crybaby," so far as I can tell, although history will now level him with this charge. The new site CrybabyLeBronJames, on the other hand, does seem to use that phrase.)
Incidentally, I think Papa John's should work both sides of this aisle, sucking up to Clevelanders while attempting to satisfy the burgeoning underground market in Crybaby 23 t-shirts.
By Dan Steinberg | May 6, 2008; 10:59 AM ET
Categories: Wizards
Save & Share:
Previous: Heidi and VW and the Jersey
Next: Gil's Wardrobe and Gil's Summer Plans
Posted by: prophet | May 6, 2008 11:40 AM | Report abuse
Posted by: Crybaby Lebron | May 6, 2008 12:45 PM | Report abuse
Posted by: Zach | May 6, 2008 1:32 PM | Report abuse
Posted by: TG | May 6, 2008 1:36 PM | Report abuse
Posted by: horsesht | May 6, 2008 2:53 PM | Report abuse
Posted by: Anonymous | May 6, 2008 3:41 PM | Report abuse
Posted by: ddwiz | May 6, 2008 4:12 PM | Report abuse
Posted by: greg | May 6, 2008 4:58 PM | Report abuse
Posted by: horsesht | May 6, 2008 11:38 PM | Report abuse
Posted by: sitruc | May 7, 2008 12:08 AM | Report abuse
Posted by: Papa Johns Employee | May 9, 2008 2:32 PM | Report abuse
The comments to this entry are closed.