One Last Bit of VW Propaganda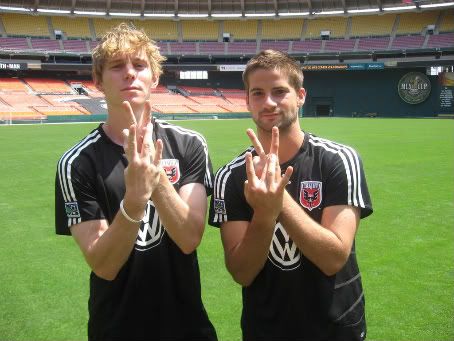 If you don't think the scent of corporate dollars was wafting about RFK Stadium today like so many mildly reheated animal products, you better get your nostrils checked out. We're talking about a major multinational corporation ordering several large helpings of D.C. United, generously slathering its logo onto the team's signage and uniforms and merchandise, even parking an inspirational truck bearing the "V-dub in da haus" logo right on the field, so that players could practice their inevitable goal celebrations.
"If I do that? Free car," promised Dane Murphy. "I'm doing it. Even if it's a reserve game, I'm doing it. I'm calling it: Straight to ESPN2."
No arguments here. Then there were the hints that team employees, including players, could be due for some sort of discounted car purchase program; "one of the things that Volkswagen asked is that we extend to our employees the same kind of opportunity to buy vehicles that Volkswagen does for its own employees," said team president and CEO Kevin Payne, who declined to discuss the specific offer available and said there were salary cap considerations.
Goalie Zach Wells, as I've previously noted, is something of an environmentalist who plans to live in D.C. sans auto. He also claims to travel around town on a 1980 recycled Libertas single-speed road bike that he got on eBay. He was asked whether that lifestyle clashed with the automobile logo now adorning his chest.

"A little bit, I'm a little conflicted," he said, before reconsidering. "But if they want to give me a free car, I'm not gonna complain. I'll just keep it in storage or something."

Other players more enthusiastically discussed which model they might pursue under a discounted purchase plan, with Quavas Kirk immediately rejecting a Jetta.
"No, that's a chick car, I won't be driving a chick car," he said. "I can't drive a Jetta, I'm not gonna lie."
"C'mon, really?" responded Santino Quaranta, who was thinking of getting a Jetta for his household's second car. "Because he's got an Infiniti with 26-inch rims on it, we can't have a Jetta?"
Broiling team disharmony aside, Stefan Jacoby, the president and CEO of Volkswagen Group of America, made a fairly startling claim today: "I haven't yet met any American who has not to tell a story about Volkswagen," he said.
Figuring that the best response to corporate sponsorship and the perils of free and unavoidable newspaper publicity was an intentionally excessive dose of free publicity, I tested Jacoby's theory by asking for V-dub stories, sadly rejecting those that hinted too strongly of the Merry Pranksters.
"Yeah, my friend had one and within a week drove it straight into a roundabout," English midfielder Dan Stratford said. "Completely totaled it. He just passed his test--this was in 2003, when I was in Fulham. Brand new Volkswagen GTI, and I think within three days it was totaled. It was very nice; he spent quite a lot of money on it."
"My dad had a VW way back when; he drove it into the Long Island Sound," reported Murphy. "It was an old, old, maybe '58 or '59 bug, maybe early '60s. Way back....I'm hoping they got it out, for environmental reasons."
"My mom owned a Rabbit," Wells said. "I was real young, we were over at grandma's house, and she had a sloped driveway. And I went in the car--this was like the early 80s, my parents were hippies--they were like 'Yeah Zach, go grab whatever out of the car.' So I go and grab whatever out of the car, but in the process I step on the e-brake and it disengages. So all of the sudden I'm in the car, passenger side door open, I'm on all fours on the front two seats, I'm maybe 4 years old, and I'm rolling backwards in the Rabbit. It's a cul-de-sac, so I wind up rolling all the way back to the other curb. It was scary. It was one of my first memories, actually."
Quite a lot of destruction, no? Quite a history of smash-ups, made less severe, no doubt, by quality German engineering. Hopefully there are no flashback involved for the lads. How about team leader Ben Olsen? Any happy VW memories?
"My first car was a Scirocco," Olsen said. "Coolest Volkswagen car ever made. It looked like the car in 'Back to the Future,' the DeLorean. It would have the flux capacitor....I was the man in that car. I felt cool; I definitely wasn't cool, but I felt pretty darn slick. I always felt like I was Michael J. Fox....Let me tell you something funny about the Scirocco, for a while every time I turned to the left it would beep. You ever see 'Little Miss Sunshine?' That's what would happen to my car, but only on the left."
See, at last, a charming story about a VW. No destruction. No crashes. So what happened to the Scirocco?
"I was trying to kill it so I could get a new one, but it just kept on going," Olsen said. "I have no idea where it is. I don't know what happened, it just disappeared one day. And there were rumors that my brother had driven it off a cliff and ran it into the local quarry."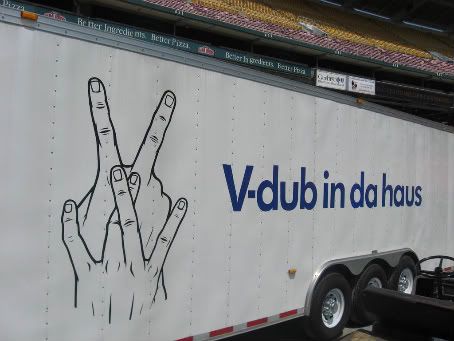 By Dan Steinberg | May 6, 2008; 3:52 PM ET
Categories: D.C. United
Save & Share:
Previous: United Players Are Excited
Next: Get Yer Crybaby T-Shirts
The comments to this entry are closed.