Ovechkin's Clothing Launch Party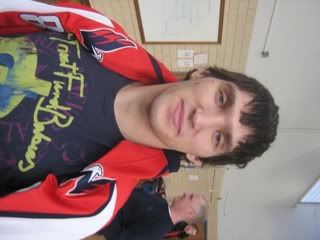 As mentioned previously, you really know you've made it as a crossover entertainment star when you have a red-carpet launch party featuring some of Canada's most beautiful models showcasing your "Streetwear Clothing Line" at one of Toronto's hottest venues.
Oh, and did I mention Toronto-based international award-winning designer Roger Edwards is going to be at Alex Ovechkin's clothing line launch party? In case you're not hip to the international leather design industry, the Barbados-born Ewards received the Ontario College of Art's most prestigious honour for his achievements in painting and sculpture, was a pioneer in the use of fashion videos to market his collections and "first emerged on the fashion scene in the early '80s with his collections of women's apparel and outerwear" which incorporated "an impeccable sense of style with premium quality suede and leather fabrics."
The hosting club, Toronto's recently-opened pan-Asian hipster hangout Spice Route, earned the following ode-to-hipsterism from the National Post this month:


Dodging Buddhas whilst turning in their drink tickets on this opening night of Spice Route was a remarkable constituency of the going-out crowd. There was, for instance, Ruby Dhalla, a parliamentarian who certainly knows her spices.

In various corners of the room -- and it's a big one -- I spotted everyone from designer Joeffer Caoc to power-flack Raymond Perkins to looks-good-in-suit agent Ashton Westwood. Preparing their unborn one for the rigours of nightlife were those lawyers-turned-fashionistas from Bustle, Shawn Hewson and Ruth Promislow.
I don't really understand what any of that means, but in the grand scheme of thing, Roger Edwards unveiling Streetwear designed in your honor at a hip Buddhist-themed Toronto nightspot definitely trumps an Internet-only high-school themed cartoon. Your move, Gilbert.
By Dan Steinberg | May 29, 2008; 3:06 PM ET
Categories: Caps
Save & Share:
Previous: Yesterlook: Kwame's Media Mob
Next: D.C. United Sausage Fest
Posted by: StetSports.com | May 29, 2008 3:57 PM | Report abuse
Posted by: KJ | May 29, 2008 4:14 PM | Report abuse
Posted by: Fingerman | May 29, 2008 4:52 PM | Report abuse
Posted by: Ben | May 29, 2008 5:05 PM | Report abuse
Posted by: Go Skins Go | May 29, 2008 6:19 PM | Report abuse
Posted by: caphcky | May 30, 2008 7:36 AM | Report abuse
Posted by: Jared | June 12, 2008 10:53 PM | Report abuse
The comments to this entry are closed.