Spelling Bee Semifinals Begin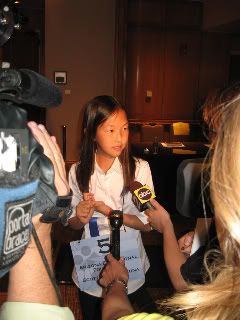 Shortly after 11 this morning, the studio audience in the basement ballroom of the Grand Hyatt began clapping. And kept clapping. Lots of clapping.
The clapping was for the benefit of the ESPN cameras, which is why it went on like that. Then everyone went silent. Strangely silent. Interminable silence, so that the ESPN hosts could talk about the drama that would soon unfold. They kept talking, and the 45 spellers sat there on stage, doing nothing.
Finally the hosts threw to the actual coverage, and the first of the remaining spellers took her place at the microphone: 12-year old So-Young Iris Chung from Arizona. Her word was chrysoprase, some sort of greenish gemstone variety. She asked the usual questions, and offered the usual repeated pronunciations, conducted the usual the back-and-forth with the judges, and received the usual entreaty that time was short.
Finally So-Young began, trying "c-r-y-s-o-p-r-a-s-e, crysophrase." The cruel pause. Then the ding.
"I already knew I was out," she said, when she met with the Spelling Bee Press Corps a few minutes later. "She was reaching for the bell. That was a shorter pause than usual."
The crowd clapped in "one-h-short" appreciation. "Ohhhh, so close," one spectator sighed. Samia Nawaz went to the mic, and So-Young was led into the holding room, where the Spelling Bee Press Corps mobilized with the key questions.
How was the Bee? "I guess it was nice," she said.

What did she want to say to her fans in Phoenix? "I don't know what to say," she said.
Why hadn't she cried? "I don't really cry in public," she said.
What would she do when she was grown up? "I'll probably be a lawyer," she said. A TV reporter pointed out that words were important for lawyers. So-Young smiled politely.
What would she do over the summer now that she was done spelling? "I'll probably study math now," she said. "I like math."
Fractions and decimals probably, one reporter asked. "I'm kind of past that," she said.
"You'll get there soon enough," he promised.
I asked her about choosing "c-r" instead of "c-h-r;" she said she was torn between the two options.
"I just thought I had to do one or the other," she said. "And I did one."
And the Bee rolls on, with favorites and five-time entrants Tia Thomas and Matthew Evans still alive.
By Dan Steinberg | May 30, 2008; 11:39 AM ET
Categories: Weirdness
Save & Share:
Previous: D.C. Sports Media Approval Ratings: Dave Feldman
Next: Down Goes Canada
Posted by: Chest Rockwell | May 30, 2008 1:49 PM | Report abuse
The comments to this entry are closed.