VW Comes to RFK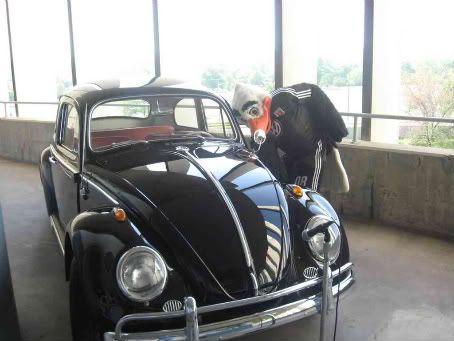 Things impossible to miss at the Volkswagen-sponsors-D.C. United press event:
* Men in dark-framed glasses.
* The car, with microphone. Apparently, the car is named Max and is something of a TV personality, starring in commercials with Heidi Klum, commercials which led off the press conference. I don't watch TV, so I wouldn't know.
* Bagels and San Pellegrino, neither of which screams "Volkswagen" to me. How about some strudel and St. Pauli next time?
The press release announcing the partnership went out this morning; the highlight is free parking.
"All fans driving to United's match on Thursday, against Chicago, will be treated to complimentary parking, courtesy of the new presenting sponsor. Going forward, the first 50 Volkswagens to enter Lot 4 on gamedays will also be treated to a complimentary spot."
Cleveland fans immediately announced a boycott of Volkswagen, and a demand for 23-cent parking, although I believe that would actually be an increase on typical Cleveland rates. And the Nats, mindful of the free parking, immediately urged D.C. United fans to take Metro.
Oh, and there's a massive United jersey bearing the VW logo draped over like half the seats in RFK, a jersey that will be waved by the supporters following goals, and thus does not need to be taken to road games. Also, fans with now outdated, non-sponsored jerseys can get the VW logo added to their outdated merchandise, free of charge. No word if VW is also offering complimentary VW tattoos, but I don't see why not.
By Dan Steinberg | May 6, 2008; 9:48 AM ET
Categories: D.C. United
Save & Share:
Previous: Wizards Dipped in Chocolate
Next: Heidi and VW and the Jersey
Posted by: EdTheRed | May 6, 2008 10:13 AM | Report abuse
Posted by: StetSports.com | May 6, 2008 10:21 AM | Report abuse
Posted by: unpimp zee auto | May 6, 2008 10:25 AM | Report abuse
Posted by: Anonymous | May 6, 2008 10:42 AM | Report abuse
Posted by: danj | May 6, 2008 12:15 PM | Report abuse
Posted by: AlecW81 | May 6, 2008 1:52 PM | Report abuse
Posted by: greg | May 6, 2008 4:51 PM | Report abuse
Posted by: Alexander Shepherd | May 7, 2008 12:29 PM | Report abuse
The comments to this entry are closed.