Wizards Dipped in Chocolate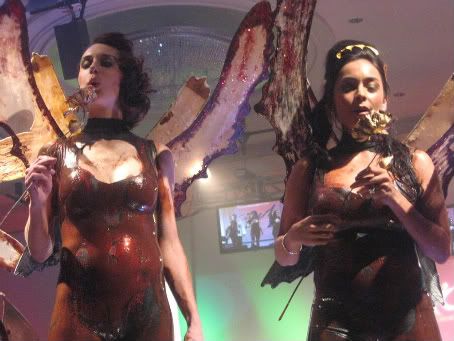 How best to recover from the Wizards' untimely departure from the playoffs and the gaping three-month span until Redskins training camp? How 'bout at a high-end fundraiser featuring C-SPAN's Brian Lamb, social gadfly Oleksiy Pecherov, and the wives of Darius Songaila and Antonio Daniels literally dripping with dark chocolate?
Yeah, even in the offseason, the Wizards deliver. Last night, it was in the form of the Des Alpes Chocolate Fashion Show Sweet Charity fundraiser at the Mandarin Oriental Hotel. The release promised "chocolate hats, dresses, sugar jewelry, hand bags, and so much more," and indeed there were all manner of intricate chocolate-based accessories draped on all manner of runway models.
But the Wizards wives (plus the wife of Director of Player Personnel Milt Newton) were the hardest of hard-core chocolate models, looking as though they had just emerged from some sort of sweet, dark bath. They were wearing outfits made by Krishon Chocolates Chocolatier Eric Johnson, and they were the only ones who fulfilled Darius Songaila's expectations.
"I thought it was going to be more chocolate on the bodies than chocolate on the hats," Songaila said after the show. "I kind of misunderstood."
I asked whether his wife, Jackie, was showering before she left the hotel; "I hope so, she ain't getting in my car that way," Songaila said.

Daniels also offered a review of the show, which featured more than a dozen models dressed up like fairy tale characters, assuming fairy tale characters had belly rings and high heels and walked like Heidi Klum.
"Chocolatey," was Daniels's review. "I wish she would wear that home," he said of his wife's outfit.
"Which car are you driving?" asked Songaila.
""No, that she would wear that AT home, not that she would wear that home WITH ME," Daniels clarified. "She can get in a cab and follow."
But in truth, the Wizards wives--who cleaned up in the hotel's spa before getting those car rides home--were there to raise money for the Heart of America Foundation, which buys books for at-risk children. And this event had absolutely everything you'd expect from a D.C. sports-themed fundraiser, including:
* Eddie Jordan's wife, Charisse Jackson-Jordan, as the chair of the event. She thought she would model herself, but the chair responsibilities prevented that, plus "I don't have the little bodies they all have," she said. Eddie Jordan did not appear, still too upset about the playoff loss.
* A promised appearance from Gilbert's girlfriend, who had a last-minute change of plans and couldn't make it. Nice to see it runs in the family.
* Jason Campbell, who has managed to attend every fundraiser held within a 200-mile radius of D.C. over the past 12 months, plus his girlfriend, former Miss D.C., Mercedes Lindsay, who was modeling as the Snow Princess.
"That was nice," the always-quotable Campbell said after the show. "I don't know how they made the dresses, though. They looked like they were really hard to make."
* Pecherov, who, when he saw me, said "You come to watch some chocolate girls, I know you."
"It's great idea," he added, "especially for guys."
And his post-show review?
"I love chocolate," he said. "It's nice decoration, nice dresses, and it's my first time at a show like zat. Very nice. Zey should come at home like zat, with zese dresses."
Less than six months 'til opening night.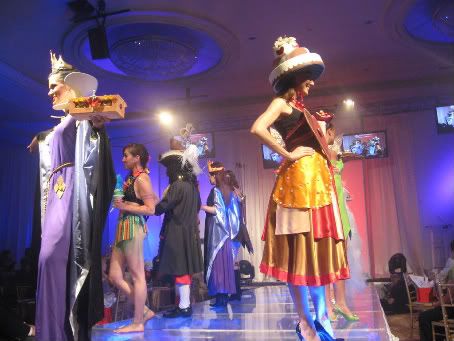 By Dan Steinberg | May 6, 2008; 9:03 AM ET
Categories: Wizards
Save & Share:
Previous: The Wizards Disappear, With Smiles
Next: VW Comes to RFK
Posted by: evan | May 6, 2008 9:43 AM | Report abuse
Posted by: StetSports.com | May 6, 2008 9:45 AM | Report abuse
Posted by: Anonymous | May 6, 2008 10:01 AM | Report abuse
Posted by: my name is Lexus | May 6, 2008 10:15 AM | Report abuse
Posted by: Tay | May 6, 2008 10:53 AM | Report abuse
Posted by: Matt | May 6, 2008 12:31 PM | Report abuse
Posted by: Anonymous | May 6, 2008 3:19 PM | Report abuse
Posted by: Anonymous | May 6, 2008 3:58 PM | Report abuse
Posted by: greg | May 6, 2008 4:49 PM | Report abuse
The comments to this entry are closed.