Skins payroll rank trending down?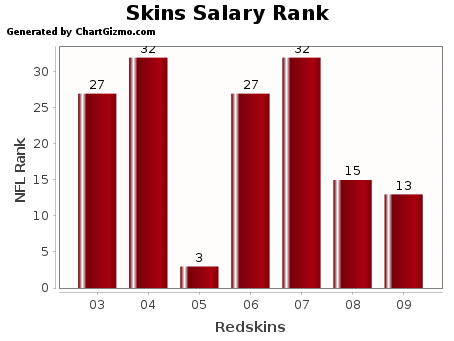 UPDATE: While this chart, and the numbers below, accurately reflect USA Today's salary database, I'm told they told don't accurately reflect reality. So I guess you might want to disregard all of this, depending on how much you trust Gannett. Apologies.
As the Redskins slow-played the beginning of free agency, the stories of bewilderment rolled in. John Clayton pointed out that the Skins had the fourth-lowest payroll after ditching their veterans and not replacing them. It seemed hard to believe.

Then I was directed to USA Today's database of NFL salaries over the past decade. Calculating this stuff is a bit beyond my pay grade, but if you assume USA Today is accurate here, the Skins' salary ranking has actually been trending down for a while here. After having the highest payroll in the league in both 2004 and 2007, the Redskins were in the bottom half the past two years, spending less than their 2007 number of $123 million both times. Before that, the Redskins had ranked near the top of the NFL for four out of five years.
USA Today also provides the top 25 individual player salaries, and there, too, the Redskins have been absent. (And I realize that the way bonuses are calculated makes this an exceedingly tough thing to accurately measure.) In 2004, the Skins had three of the NFL's 15 highest-paid players, with Clinton Portis, LaVar Arrington and Shawn Springs. In 2006, they were down to just Chris Samuels, at No. 16. Since then, the franchise hasn't had any player make the top 20.
By Dan Steinberg | March 9, 2010; 4:36 PM ET
Categories: Redskins
Save & Share:
Previous: Milan Jurcina on coming home
Next: Could Caps score their way to a Cup?
Posted by: MarylanDChris | March 9, 2010 4:56 PM | Report abuse
Posted by: Kenbeatrizz | March 9, 2010 5:25 PM | Report abuse
Posted by: Tank2 | March 9, 2010 5:28 PM | Report abuse
Posted by: IHateJLC | March 9, 2010 6:06 PM | Report abuse
Posted by: Rocky420 | March 10, 2010 8:16 AM | Report abuse
The comments to this entry are closed.