David's 10 Favorite Local Albums of 2006
By David Malitz
Before we get to my 10 favorite local albums of the year, I'll give the usual caveats. I'm not calling this "Top 10" or "Best of" or whatever, I'm calling it "Favorite" for a reason. These are simply the 10 albums (or EPs) released by local artists in 2006 that I enjoyed listening to the most. Since I'm lazy and have written about almost all of these artists at least once this year, either in Nightlife Agenda or on the blog, I'm simply going to reuse what I've already written. (And, in one case, what Rhome has written!) There might be a few added notes plus clips from a couple of songs that are worth listening to. If you like what you hear, investigate further and maybe pick up a record or two. Supporting local music is a very good thing. And, as always, feel free to chime in with your own favorites.

1. Benjy Ferree - "Leaving the Nest"
"Leaving the Nest," the debut EP by local singer-songwriter Benjy Ferree, doesn't sound all that much like a debut. While the earliest work by many artists finds them still searching for their sound, Ferree has found one that works rather well for him. Think of the less raucous moments of the White Stripes and you'd be pretty close, as Ferree's voice certainly brings to mind Jack White. It's sort of fragile, but not in that shivery Bright Eyes sort of way. It doesn't seem at all affected and it helps to complement the laidback vibe that runs throughout the album.
--Nightlife Agenda, Jan. 26
(NOTE: The EP was re-released this year with an additional four songs.)
MySpace
Download These: "In the Countryside," "Leaving the Nest (It's a Long Way Down)"

2. The Aquarium - s/t
Simply put, the self-titled debut album by the Aquarium is one of the best local releases of the year. The duo of Jason Hutto (keyboards and vocals) and Laura Harris (drums) has made an album filled with catchy, vibrant pop songs and a handful of slightly trippy instrumentals. Despite the group's limited palette -- voice, keys and drums are the only elements present -- things never get old during the course of the 11 songs. That's a testament to Harris and Hutton's songwriting chops, which they've honed over the last five years. "Waiting for the Girl" and "White House" are bouncy and fun, driven by Hutton's enthusiastic, just slightly off-key vocals, while instrumentals "Channel 9" and "Aquarium Dream" show off the band's spacier side without losing the fun vibe.
--Nightlife Agenda, Nov. 9
MySpace
Download These: "Waiting for the Girl," "White House"

3. Shortstack - "The History of Cut Nails in America"
Nearly six months after its launch party, Gypsy Eyes Records finally has GYP-001 ready to go. Shortstack's "The History of Cut Nails in America" proves to be worth the wait, as the local quartet hones its twangy, throwback country sound on its second album. The blueprint for most songs is the same -- a galloping drumbeat, walking bassline, reverb-heavy guitar and singer Adrian Carroll's confident vocals. More and more bands, especially in this area, seem to be looking to the past for inspiration today, but Shortstack pulls it off better than the rest. And as good as "The History of Cut Nails" is, the band's live show is even stronger.
--Nightlife Agenda, Nov. 2
MySpace
Download These: "Wiseblood," "Good Intentions"

4. Alcian Blue - s/t
For a band that has long had a reputation as one of the noisiest in the city, Alcian Blue has made one pretty album. There have always been atmospheric soundscapes under the wall of guitars, but when you trade in a drummer for a keyboard player and drum machine, things mellow out even more. Alcian's self-titled album on Elephant Stone Records sounds less like the Jesus and Mary Chain and My Bloody Valentine and more like the lost 4AD from 1989 -- think Cocteau Twins or Dead Can Dance.
--Nightlife Agenda, June 1
(Note: Alcian Blue recently disbanded, so this album is the group's swan song, and it certainly went out on a high note.)
MySpace
Download These: "71705," "See You Shine"

5. Partyline - "Zombie Terrorist"
We somehow didn't write about Partyline this year, even though "Zombie Terrorist," released in October, presents 18 of the most fun minutes of music you'll hear this year. Allison Wolfe's legacy will always be safe thanks to her stint as frontwoman for riot grrl legends Bratmobile, but it's good to see her rocking and having fun again after a not-so-hot detour with her previous band, Deep Lust. "Zombie Terrorist" is all bouncy beats, catchy hooks and the usual shouty, over-the-top, politically-charged vocals we've come to expect from Wolfe. Bonus points for including a cover of the Government Issue song that the band took its name from.
MySpace
Download These: "Trophy Wifey," "No Romantic"

6. The Jet Age - "Breathless"
Jangly indie pop beefed up by big, fuzzy guitar solos. "Breathless" is a very focused record that sounds more assured than most debuts. This shouldn't be all that surprising since singer/guitarist Eric Tischler and bassist Greg Bennett were two-thirds of the Hurricane Lamps, an underrated and prolific local band that released five solid albums between 1999 and 2004. The sound isn't that far off from that of the Lamps, which makes sense since only the drummer has changed in the Jet Age. The songs are ragged without being sloppy and bring to mind some of the best in the indie rock pantheon, whether it be Dinosaur Jr. with the distorted solos or Superchunk with Tischler's high pitched, enthusiastic vocals.
--GOG Blog Post, Sept. 15
MySpace
Download These: "Sometimes You Win, Sometimes You Lose," "Out of Sight"

7. W. Ellington Felton - "Outrospective"
He recently popped up on a movie on BET. He occasionally dips out of town to rock on the West Coast at Los Angeles's Temple Bar, where the progressive crowd takes refuge from the plastic people. He appeared on a record with Prince Paul. He flexes his acting chops in local theaters and plays the newest modern soul cuts from the upstairs DJ booth at Bar Nun on Friday nights. At any of these points, you'll find W. Ellington Felton slinging copies of an album you haven't heard yet, since he seems to record a new full-length project every few months. His newest baby has national distribution, and since it will be a first impression for a much wider group of potential fans, it's mostly a collection of the best cuts from his indie releases along with a few new treats.
--Nightlife Agenda, Sept. 21
(NOTE: This is the one authored by Rhome. Like he said, "Outrospective" is a great opportunity to play catch up with the local soul-renaissance man, who always seems to be onto his next project even before his current one wraps.)
MySpace
Download These: "How Dare You," "Beer for My Miss"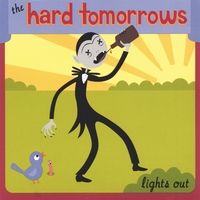 8. The Hard Tomorrows - "Lights Out"
Glossy indie rock that could very well set the blogosphere on fire. If one of the songs on "Lights Out" showed up on the next "Music From The O.C." compilation (wait, is that show still on?) alongside the likes of Death Cab For Cutie, Youth Group or Matt Pond PA, it wouldn't at all be out of place. The material is catchy and mostly pretty, although the band still packs a punch on songs such as album opener "Take Down" and "Stop + Shoot." Still, the highlights are the more subdued moments, such as the irresistible "Patterns," which showcases a perfect combination of Rob Pierangeli's impressive vocal abilities, simple keyboards and gently picked guitar. "Darling" is a short, charming dirge that shows the band is capable of diversity in its songwriting, and actually brings to mind one of the year's most bluzzed-about bands, Beirut. As an added bonus, few albums will come out this year that can match "Lights Out" when it comes to entertaining album art.
--GOG Blog Post, Sept. 15
MySpace
Download These: "Patterns," "Glossy-Eyed Sweetheart"

9. Soccer Team - "'Volunteered' "Civility & Professionalism"
It's official: The new direction at Dischord Records skews toward intelligent, understated indie pop made by male/female duos. The Evens, the Aquarium, Soccer Team -- it's more than just a trend, but we're not complaining. After all, how many jagged guitar riffs and yelping vocals can we really take? Soccer Team is less immediately gripping than either of those other two acts -- no punchy keyboards like the Aquarium or gritty, clenched-teeth vocals like the Evens -- but the group's self-titled debut is another fine effort released by the suddenly prolific-again label. Ryan Nelson and Melissa Quinley's songs have a slightly haphazard feel, which makes sense since the album was recorded mostly at home studios. But that doesn't take away from the quality of the material; in fact, it makes it sound more honest.
--Nightlife Agenda, Nov. 18
Download These: "Solid Ring Fighters," "Lobster Season"

10. Pagoda - "Seven Nights"
Pagoda got three mentions in Nightlife Agenda in 2006, but in each case it was just a brief mention, such as "openers Pagoda play subdued, atmospheric rock that brings to mind Yo La Tengo and Galaxie 500." This was because Pagoda headlined very few shows and opened many good shows (well, at least three). The band plays music that might not grab you immediately, but wins you over with its subtle charms, such as cooing vocals and airbrushed drums. A cover of the Troggs classic "66 5 4 3 2 1" is a highlight.
MySpace
Download These: "Tear Down the Tents"
--David
By David Malitz | December 27, 2006; 4:01 PM ET
Categories: Music
Save & Share:
Previous: Out With the Old: Artsy Edition
Next: Where to Watch Bowl Games
Posted by: Joseph Price | December 30, 2006 4:23 PM | Report abuse
Posted by: Ash | January 7, 2007 5:00 AM | Report abuse
Posted by: zach | January 12, 2007 5:38 PM | Report abuse
The comments to this entry are closed.