New Music From Local Bands
By David Malitz
Another week, another look at some releases from local bands. This time around: the chilled-out hip-hop of Panacea, radio-ready rock of Juniper Lane and classic pop/rock of the Beanstalk Library. Words and music, after the jump.
Panacea - "The Scenic Route"
Panacea is one of those rare side projects that might become more well-known than its main group. The duo of Raw Poetic and K-Murdock is an offshoot from the larger RPM (Restoring Poetry in Music) collective, and its new album, "The Scenic Route," is being released by a recently resurgent Rawkus Records. It's a low-key and very focused affair, which makes it a relative rarity in hip-hop today. Unlike the two hip-hop titans who released albums today, there are no giant egos on display here. The guest spots are limited and it's pretty much a two-person show, which gives it a consistent sound throughout. Everything sounds extremely relaxed -- maybe even too relaxed at times. The grooves are exceedingly smooth, with plenty of keys, strings and flute samples taking center stage as opposed to thumping bass. Raw Poetic's rhymes sometimes get lost in the shuffle, but that's more a reflection of the hypnotic qualities of K-Murdock's beats than anything else.

This isn't club music by any stretch of the imagination. The vibe throughout "The Scenic Route" is much more chill-out room than hands-up on the dance floor. In other words, this is music that is more amenable to Eighteenth Street Lounge and Love. At times it even reminds me of some of the more hip-hop flavored work by Nightmares on Wax mastermind DJ Ease. It's a rare hip-hop album that feels like a singular statement as opposed to a bunch of songs thrown together and called an album. Lyrically it finds a comfortable middle ground, not afraid of delivering messages ("The Scenic Route," "Pops Said") but not taking things too seriously. After all, the first rhyme on the album references "Reading Rainbow" and LeVar Burton. "The Scenic Route" is the type of album that will floor you on first listen, but that's sort of the point. It's expertly crafted and a welcome breath of fresh air on both the local and hip-hop landscapes.

Juniper Lane - "Wake From Yourself"
Juniper Lane is one of those bands whose success will largely be determined by people who wear suits, which isn't always an enviable position. The local quartet plays polished, radio-ready rock with all the right nods to U2 and Coldplay, except its soaring choruses come with female vocals provided by singer Vivion Smith. And this is definitely music to hear on the radio, since as you make your way through "Wake From Yourself," it's evident that the band works with a template and rarely strays from it. "Impact" gets the album off to a fast start with chiming guitars, crisp vocals and a catchy chorus, but then "Take Me Home" and "Catch My Breath" are almost carbon copies and it lessens the, well, impact. It's still something that can resonate with lots of people, it's just reaching those people that's the tricky part. It puts them in the same position as many bands (like No Second Troy, who recently played with Juniper Lane at the 9:30 Club and were featured here a few months ago) with the total package, that are just waiting for it to be picked up.


To the band's credit, it largely avoids the "Grey's Anatomy"-rock tag, which means that these songs do actually have some kick to them. "Coma" is an obvious exception and would actually make perfect sense on a medical drama. It's a true story -- Smith was in a coma for a week after a near-fatal rock-climbing accident a few years ago -- and while there's an honesty to the track it's also dripping with overwrought sentimentality. It can be forgiven given the circumstances but Juniper Lane is served best when it sticks to its formula.

To hear "Impact" by Juniper Lane, visit their MySpace Page (sorry, technical difficulties)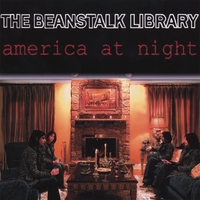 The Beanstalk Library - "America at Night"
There's been a mini-rash of local rock bands calling it quits lately. Instead of getting too worked up about bands that, for one reason or another, don't want to keep making music together, why not find a new favorite? Like the Beanstalk Library. The local quartet plays the brand of glossy, hooky pop-rock that's en vogue in D.C. these days, and the group does it better than most. Songs like "Fake It" and "Elephantitis" burst out of the speakers, bright and jangly guitars at the forefront, supported by piano, horns and cascading backing vocals. It might sound overly ambitious for a band's debut, but songwriters Ryan Walker and Brian Kent clearly have an ear for this stuff. A few tracks are a bit too overadorned -- the songs themselves are strong enough that they don't need to be so dressed up all the time -- but the enthusiasm for the material makes up for it. "America at Night" is rooted more in classic rock than '90s alt-rock and that helps give the songs a timeless feel -- this is simply well-written, well-performed, well-produced music. Hard to argue with that.

--David
By David Malitz | September 11, 2007; 5:37 PM ET
Categories: Music
Save & Share:
Previous: November = Old Dudes Rock Month
Next: Vive le Georgetown
The comments to this entry are closed.