Writers Making Lemonade Out of Layoff Lemons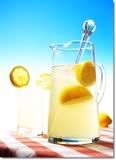 (Photobucket)
Is the media dying or is the media a-changing? With my feet rooted in word-smithing soil for nearly 16 years, I'd like to think it's the latter. If it weren't for this daggonit economic downturn, maybe the lightning-speed changes in the ways and means of how we report the news and tell a story wouldn't feel like an earthquake, but alas, the volcanic developments in media are unfolding, um, erupting by the hour.
In my edible corner of the world, the work of four food writers whose work I had come to know has been snuffed out by the economic grim reaper in less than a month.
It would be understandable if any or all of these writers decided to curl up on the couch glued to the Soap Opera Network, but this plucky bunch -- all women -- refuses to sing the layoff blues. In fact, they're already back on the job, all four of them cooking up unique independent ventures.
If you're a Slashfood reader, then you're familiar with the work of the very prolific Marisa McClellan, who's been running a well-oiled blog ship since November 2007. Based in Philadelphia, McClellan moonlighted for Slashfood while holding a full-time job and finishing up a Masters degree in Writing. Although her byline went dark a few weeks ago, McClellan is lighting up another blog space called Food in Jars, dedicated to all things jarred, pickled and preserved.
Six years ago, Emily Nunn left New York, where she had been working as an editor and writer for The New Yorker (you may remember her Tables for Two columns) and packed up for Chicago, where she landed at the Chicago Tribune. Her most recent gig, as a reporter for the Trib's Good Eating section, came to an end in February. Within a few weeks, she gave birth to Cook the Wolf, a blog named after "How to Cook a Wolf," the renowned WWII-era classic by food writer M.F.K. Fisher.
Nunn told me by phone earlier this week that she's using her newly found free time to teach others how to cook and to master the art of digital story telling.
Last week, Seattle, where I hang my hat, made journalism history, when the daily Seattle Post-Intelligencer stopped its printing presses and opted for an online-only operation. As a result, the Web team is just a fraction of its print-based editorial forefather, which inevitably meant significant layoffs. The attrition directly impacted P-I's Food section, which went from robust to bust overnight.
Rebekah Denn, who had been at the paper for 11 years covering features and food, wrote the lively Devouring Seattle; her article on Mangalitsa pigs earned her a James Beard journalism award nomination this week. Her lemonade plan is Eat All About It, a blog newborn that is already talking and walking.
Joining Rebekah in the layoff line is P-I restaurant critic Leslie Kelly, who's been covering Seattle's dining scene since 2006, but I'd hardly call her out of work. On April 1, Kelly, who has little formal culinary training, is bracing the heat of the kitchen and going to work for Seattle star chef and restaurateur Tom Douglas, as an unpaid apprentice. For six weeks, Kelly will spend time in all of Douglas's five restaurants, both in the kitchen and in front of the house. She will be chronicling her experiences on a weekly basis at Serious Eats. I'll let you know when her first entry is available. Meanwhile, Kelly manages to keep her Whining and Dining blog well fed.
By Kim ODonnel | March 25, 2009; 11:00 AM ET Food on the Web
Previous: Chat Leftovers: Roasters, "Cloaking," Little Fishies | Next: Fig Bar Deja Vu
Comments
Please email us to report offensive comments.
Posted by: LaurenMcK | March 25, 2009 11:51 AM
Posted by: margaret6 | March 25, 2009 12:49 PM
Posted by: esleigh | March 25, 2009 1:25 PM
Posted by: nicspir | March 25, 2009 1:54 PM
Posted by: Agathist | March 25, 2009 2:12 PM
Posted by: Kim ODonnel | March 25, 2009 2:20 PM
Posted by: donnyw47 | March 25, 2009 4:54 PM
Posted by: EdMurrieta | March 29, 2009 2:32 PM
Posted by: heatherlalley | March 31, 2009 9:08 PM
The comments to this entry are closed.